Vinhulen.dk - Barolo Tour 2009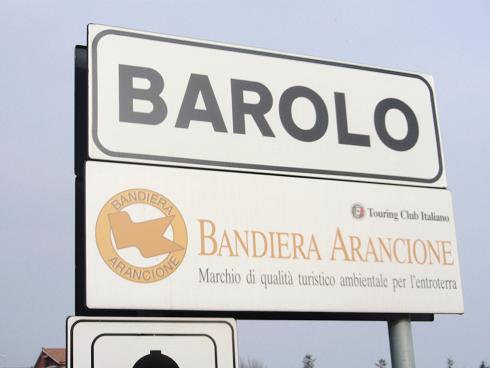 Can one repeat or surpass a success? Can an ultimate experience become even more ultimate?
2 questions you can wonder about for days, because ultimate from the beginning is the highest potentiation of the word "good"
The 2 questions are easiest answered by digging deep into your own soul to search for the answer. My answer is - the Barolo Tour 2009 was exactly as good as the Barolo Tour 2008. No more, no less - just perfect.
Some of you will find that this years program surpasses last years program when you see the producer list, but if you ask us, we will say that both years in their own way were quite special, even if we had to miss Frank, who was occupied by other purposes this year.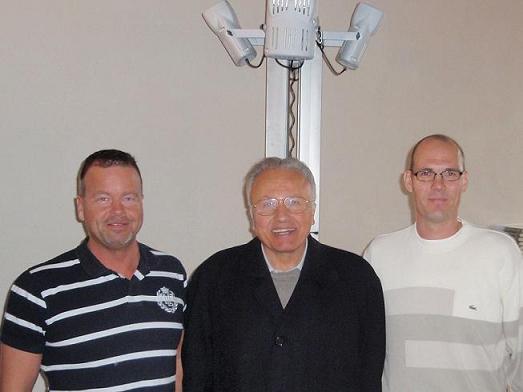 Michael and Thomas together with Angelo Gaja.


A trip like this to Barolo is not possible without help from good people. A unity of willingness and helpfulness from many people made this kind of tour possible. You know yourself of whom we are speaking - thank you.
This year we planed to make severel trips to the nearby Barbaresco, where we during the week were to visit a number of producers on the highest level of quality known to man.
As you can see in the picture above, we most certainly bumped into the most famous of them all - Angelo Gaja.
We had the pleasure of talking to Angelo Gaja for a good hour, where we discussed the situation in the area and challenges of the future. You will hear more about that in future articles from the trip. Mr. Gaja thought that this conversation should be accompanied by a special wine, which was not on the prepared tasting list. From the cellar, or just another room, was brought in a bottle of Sperss 1999 - not bad!! It is truly a magnificient wine from a fabulous vintage.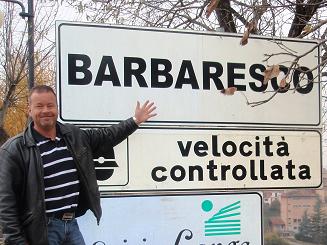 Michael in front of the intrance to the town of Barbaresco .
When you move around in the Barolo and Barbaresco area you totally depend on a car to transport you safely from one producer to the other and to restaurants and cosy trips around the area.
Also the car has to make it from the airport in Milan to Barolo. A trip almost 190 kilometers long. It takes a couple of hours drive.
We rented a brand new Fiat Bravo (I'm an italo freak). An excellent choice. the car made it through the week - or should I say almost!
On the last day a high biiiiip sounded, and the display told us, that we had a blocked diesel filter. Very impressing for a car only 2 month old. Fortunately we were able to continue without delay. Hm, italian cars!!!

Henrik and Michael beside the Fiat Bravo, which took us round the area during the week!
Here we are in front of Sottimano's residense in Barbaresco.
A trip to Barolo is worth nothing without a nice place to stay. Also this year we rented an apartment at
La Giolitta
, where we had our own basement apartment with room for 6 people and fairytale breakfast make by the owner Daniela and her husband.
Fresh eggs, salami, cheese, ham, cake and bread were just some of the components for breakfast and we could also use the apartments fireplace, terrasse and always call for service from the lovely family (Daniela & Francesco). The apartment is situated in central Barolo town in quiet surroundings.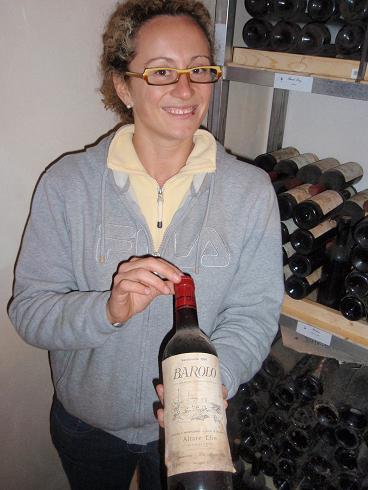 Silvia Altare with a bottle of wine from the familys private collection.
This years program was not as hectic as 2008. We had a lot of time to let the impressions sink in. Below you can see the program of the week and you can click yourself into the sepcific articles made from every visit on the Barolo Tour 2009. You can see the specific articles when we write "online xx.xx.xxxx" beside the producers name.
Barolo 2008 & 2009 - Around 45 pictures from the tours in 2008 & 2009.
Barolo 2008 - Sidste års Barolo Tour - dansk version
Barolo 2008 - Last years Barolo Tour - english version
Barolo 2009 indledning - Online 29.11.2009 - dansk version
Barolo 2009 initial article - Online 02.12.2009 - english version
Barolo 2009 - Angelo Gaja - Online 01.02.2010
Barolo 2009 - Roberto Voerzio - Online 15.07.2010.
Barolo 2009 - G.D.Vajra - Online 01.08.2010
Barolo 2009 - Paolo Scavino - Online 14.08.2010
Barolo 2009 - Vietti - Online 15.07.2011
Barolo 2009 - Sottimano - Online 16.07.2011
Barolo 2009 - La Spinetta - Online 22.07.2011
Barolo 2009 - Cappellano - Online 28.07.2011
Barolo 2009 - Domenico Clerico - Online 28.07.2011
Barolo 2009 - Elio Altare - Online 07.08.2011
Barolo 2009 - Bartolo Mascarello - Online 09.08.2011
Barolo 2009 - Armando Parusso - Online 09.08.2011
Barolo 2009 - Bruno Rocca - Online 09.08.2011
Barolo 2009 - Schiavenza - Online 11.08.2011
Barolo - Review of local restaurants and wine bars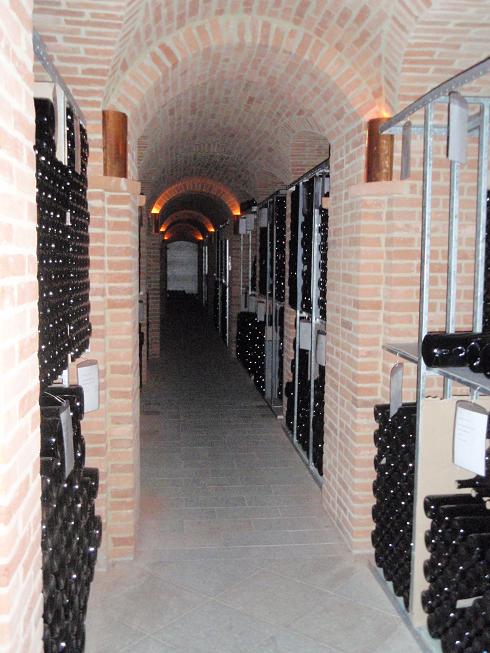 Not many producers store old vintages.
Paolo Scavino is an exception. They have a whole cellar!

Wherever we went we were velcomed with open arms and big smiles. We felt a difference from last years visits. It had become easiere to make appointments, and we tasted more wine this year than last at the different producers.
Probably a combination of the written articles of last years trip combined with our proper preparation and the fact that we have seen most of the producers through severel years in Denmark and in Italy.

Perhaps the best picture from the Barolo Tour 2009.
Aldo Vajra and wife. Nice and warm people!
The wines are excellent. Riesling, Freisa and Barolo - some of the best there is! Sabrina was our tour guide. We will give you a picture of Sabrina in our special article from the Vajra visit...
Not everything most be about wine. This year we have decided to put some attention on the restaurants we visited during the week.
A lot of you have asked if we can recommend some nice places to eat in the Barolo area, and we will ofcourse honour your wishes and bring you some reviews in the forecoming months.
You will see a lot of pictures of food from the restaurants in the forecoming articles. Here is a picture to warm you up.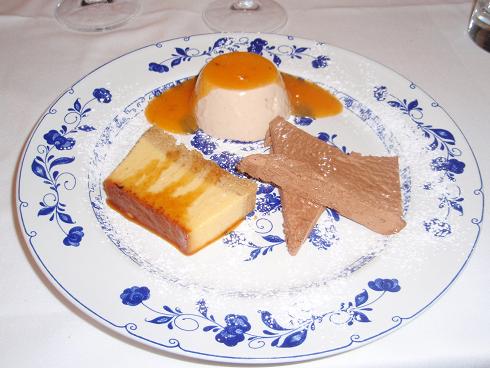 Lovely placed pieces of dessert. Both taste an look was fantastic.
When you visit wine producers it is very important to be well prepared. It gives you better experiences when you're there, because you can ask the right questions at the right time.
The produceres like that you are well prepared so they don't have to explain everything about their history every time. It is common courtesy that you know most of the history and the people behind the wine when you arrive.
Vinhulen.dk has Thomas, whom has photografic memory regarding facts related to wine. It is not unusual he challenges the people at the winery, when he suddenly opens a discussion about label designs in the 80's or the possition of the sun compared to the wineyards. When Thomas - known as "rainman" among friends - warms up, it is diffecult to keep up with him :-)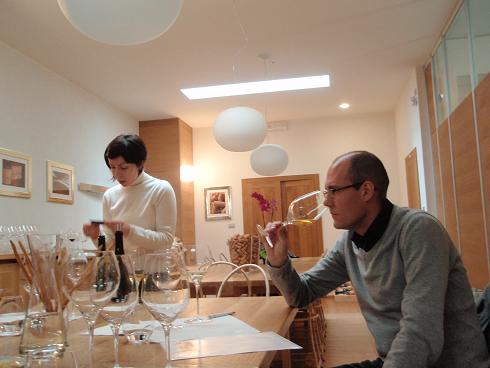 Don't desturb Thomas when he works - is it caramel or chocolate i smell?
This picture is from our visit at La Spinetta. In the background you see Anja Cramer.
Last year we brought you a lot of pictures from beautiful Barolo with all it's wineyards and small towns of Serralunga d'Alba, Montforte d'Alba and others. This time we give you some pictures of Barbaresco, where the tower, which needs renovation, stretches high above all the other roofs.

We are a couple of kilometers outside Barbaresco in this picture to give you a better view.
In the end of this initial article, which is now, we give you some mood pictures. We have several hundreds to pick among. For instans we were in Alba to celebrate the trufle season. Alba is placed 15 kilometers from Barolo, Cosy and charming town. It is a must to see this town, when you are in the area. We give you the pictures in later articles and instead we bring you a picture from our visit at Roberto Voerzio, where we were gathered around the "bar" to taste the latest vintages.
We also have room for a picture of Henrik and Michael in Torino, which you must visit, if you want to buy something special before you go home. There are a lot of goodies and quality stores with many popular brands in almost every catagory.
We also found the time to visit a museum in midtown Torino. They have this wonderful museum with egyptian things excavated by italians in the beginning of the 20th. century. There are also mummies. Perhaps the largest collection outside Egypt.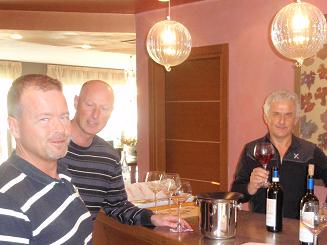 We recommend you to visit vinhulen.dk in the coming months. We update the specific articles from every visit at wineproducers during our week in Barolo and Barbaresco.
Further more we update our wine database with all the reviews of the tasted wines on our Barolo Tour 2009. Here you can see some of the earliest tasting notes on the new wines. Buy before all other winelovers before the wines are sold out.
Copyright 2009
Vinhulen.dk