Barolo Tour 2011 - Sandrone
English version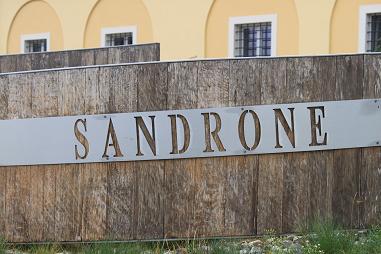 The visit at Sandrone in november 2011 was our second. First time was in 2009 at the same time of year, but we like to go back to visit Sandrone, which is truly one of the best and one of the so called new comers in the area, if you can talk about new comers, when a vinery has put wine on the market since 1978!
We arrived in the morning and meet mrs. Sandrone in front of the house/vinery. She is the wife of Luciano Sandrone, the founder of Sandrone, which is only a short distance from our "home" in the central town of Barolo. No need for a car. You can easily walk the distance.
We arrived on the morning the day after the big flood in Valle d'Aosta where a lot of italians were killed by the flood and slide of dirt from higher ground. A sad day for mrs. Sandrone we could tell, and we had a little talk with this very, very nice lady while waiting for Barbara Sandrone.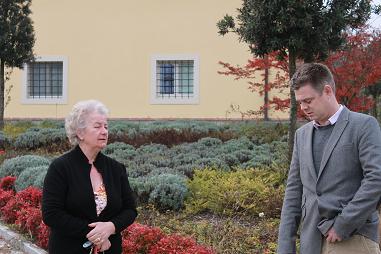 Above you can see the sign telling you, you have come to the right place. To the right you can see Anders conversating with mrs. Sandrone in front of the winery.
After a few minutes we were guided into the tasting room where we meet up with Barbara Sandrone, the daughter of Luciano Sandrone. First the wine tasting and then the tour around the property.
But let's start with some history about the winery. Luciano Sandrone (born in Pozzo in La Morra) bought the place and started working together with his younger brother Luca. The Sandrone property was bought in 1970, and the first vintage to hit the market was the 1978.
Before buying the property Luciano Sandrone worked as a cellarman in Marchesi di Barolo, saving up money to buy a place of his own. Before that he worked 5 years for Borgogno. He bought the place on Cannubi hills and is for sure able to do almost everything excellent with the grapes from this piece of land.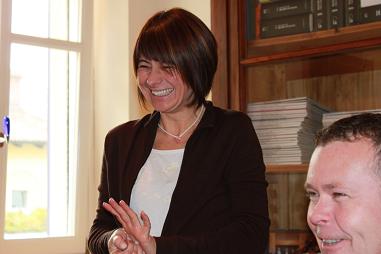 Later came more land. Today Sandrone owns part of the vineyards Cannubi Boschis, Crosia, Rivassi and Vignane in Barolo. Also Cascina Pe Mol, Castelletto, Ceretto and Conterni in Monforte d'Alba. Futher more Merli, Ravera and Rocche di S. Nicola in Novello and finally Valmaggiore in Vezza d'Alba. The latest puchases is Giusep, Villero and Baudano.
In the beginning Luciano Sandrone only produced 1.500 bottles of wine, which were exported to the United States, but later on he went from this number of bottles to a whole lot more!
Currently the estate farms a total of 27 hectares, 75% of which are owned. Sandrone produces 90.000 - 100.000 bottles a year, which amounts to about 8,000 cases. All the grapes come from own vineyards.
To the left you see Barbara Sandrone smiling....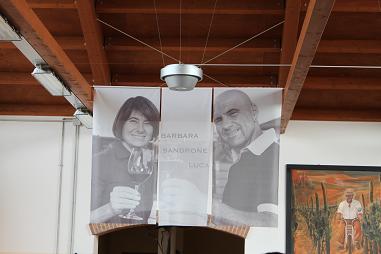 Luciano Sandrone had originally no reason for being a winemaker. His father was a carpenter, to there is no longterm family wine tradition here. The Brother Luca was educated in Scuola Enologica in Alba and graduated in 1987. The worked for several years in Roero - making white wines.
Barbara Sandrone is the daughter of Luciano Sandrone. Barbara Sandrone, See has been at the winery since 1989, and full time since 1994. She was raised in Barolo and though she studied in Alba and London and lived in Milan, her heart was always in Piedmont. After careers in the travel and legal sectors, she began taking an active interest in the family business.
Today she is responsible for all outreach, external relations and winery visitors, and tirelessly travels the globe to bring her father's wines to the public. The diversity of roles she has at the winery only accentuates her many talents and her passion for communicating the culture, wines and history of the family cantina.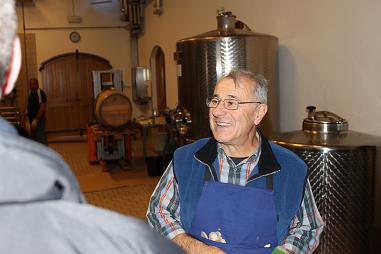 Barbara has two children, Alessia and Stefano, and enjoys cooking and sports in her spare time. She has probably not that much spare time :-)
In the picture to the left you see Luciano Sandrone working in the cellar. One of the best pictures on this years tour!!
This morning Barbara had prepared a selection of the entire wine range from the estate:
Dolcetto d'Alba 2010
Barbera d'Alba 2009
Nebbiolo Valmaggiore 2009
Barolo Le Vigne 2007
Barolo Cannubi Boschis 2007
Now a little about the different wines: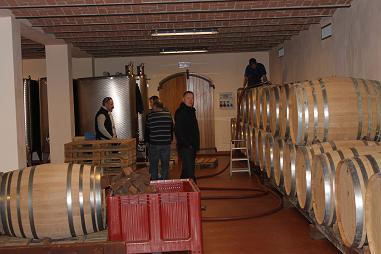 Dolcetto d'Alba is made from 100% Dolcetto grapes from Rivassi, Crosia, Ravera, Castelletto and Cascina Pe Mol vineyards. Only in steel tanks. 30.000 bottles a year.
Barbera d'Alba is made from 100% Barbera grapes from Merli, Rocche di S.Nicola and Cascina Pe Mol vineyards. 12 month in oak and then 9 months in bottle before release. 21.800 bottles a year + magnums.
Nebbiolo d'Alba Valmaggiore is made from 100% Nebbiolo grapes from Valmaggiore vineyard. Aged in 500 liters french barrels for 12 month and then 9 moths in bottle before release. 16.700 bottles a year + magnums.
Barolo Le Vigne is made from 100% Nebbiolo grapes from Vignane, Meerli and Conterni vineyards. 24 months in 500 liter french oak followed by 20 month in bottle before release. 15.100 bottles a year + magnums.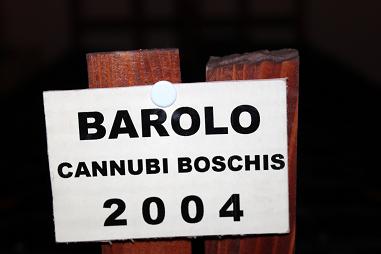 Barolo Cannubi Boschis is made from 100% Nebbiolo Grapes from Cannubi Boschis vineyard. 24 months in 500 liter french oak followed by 20 month in bottle before release. 9.000 bottles a year + magnums and double magnums.
At Sandrone you can find a very special thing. Perhaps you own a bottle with a "Sibi et Paucis" seal? It means that you are about to enjoy a bottle that is exactly the same as the original release. This is be course Sandrone keeps 15% of every vintage in the cellar for further cellaring for 4 additional 4 years. This is not to be mistaken for riserva.
You will still buy exactly the same wine 4 years later, that you bought the first time. You are only sure that the wine is perfectly stored during this period. We believe Sandrone is the only producer with this program. Sandrone will never increase the amount of Sibi et Paucis.
To the left you see a picture of one of the storrage rooms for earliere vintages.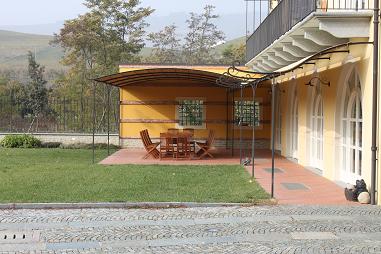 Now it was time to visit the cellar. We have been there before, but this time there were workers working on the wine. This day it was about transferring wine from one barrel to another - a part of winemaking. The whole place is very clean and sober. Sandrone takes great pride in keeping everything clean and organized.
During the tour we meet the man himself, Luciano Sandrone. As you can see in the picture, he is smiling all over, and he was very kind and easy to talk to. Luciano let us try a sample from steel tank. I think it was the Barbera d'Alba from 2011. Still early in the process, but it is very important to taste it from time to time to follow the evolpement.
The best part of the tour in the cellar is definately the temperature controlled cellar with the Sibi et Paucis seal. Lots of vintages from the past. We saw Barolo Cannubi Boschis from 2001 and 2000 among others - nice!!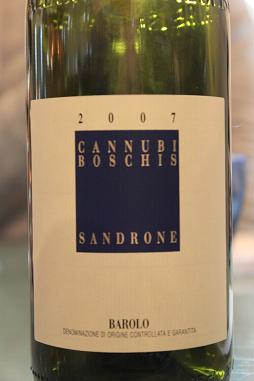 Now it's time for you to see the tasting notes of the wines of Sandrone in vintages 2007, 2009 and 2010.
If you want to see our review of a particulary wine or more, just click on the wine, and you'll be forwarded to our wine database with almost 5.000 Italian wine reviews:
Dolcetto d'Alba 2010, Sandrone
Barbera d'Alba 2009, Sandrone
Nebbiolo d'Alba Valmaggiore 2009, Sandrone
Barolo Le Vigne 2007, Sandrone
Barolo Cannubi Boschis 2007, Sandrone
After a couple of very nice hours meeting both mrs. and mr. Sandrone and Barbara Sandrone it was time to move on. Next was another visit to another fine wine producer in the area.
Time to head back to our appartment and get the car fired up for more adventures in the beautiful area.
You can find the wines from Sandrone in Denmark at Domaine Brandis.
Copyright 2012
Vinhulen.dk