Barolo Tour 2011 - Giuseppe Rinaldi
English version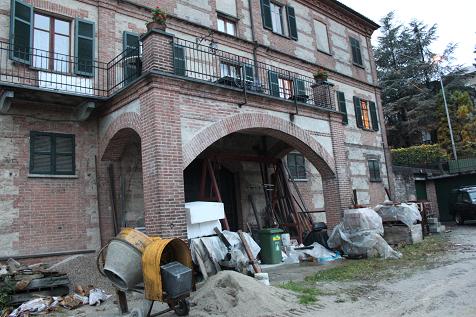 This was really one of these producers where we didn't have to start our car to get there, but we did!
No more than 300 meters from our apartment in Barolo, you find one of the top producers in the traditional Barolo style - Giuseppe Rinaldi.
It was with somewhat great expectations we had been looking forward to this visit. It's not easy to get a appointment here! Giuseppe Rinaldi is a man of few words, and the first thing we saw when we arrived, was Giuseppe Rinaldi on a tractor looking somewhat displeased by seeing us arrive in his courtyard at the exact same time, as he was moving something from one place to another.
As you can see in the picture to the left, there is a lot of things to do on the tractor, and we were blocking the narrow passage. After a few words we were told to park somewhere else and wait for a few minuts before he could let us in :-)
No problem...After 20 minutes we were given access to this wonderful old style vinery to meet Giuseppes daughter Marta, who was the tour guide this afternoon.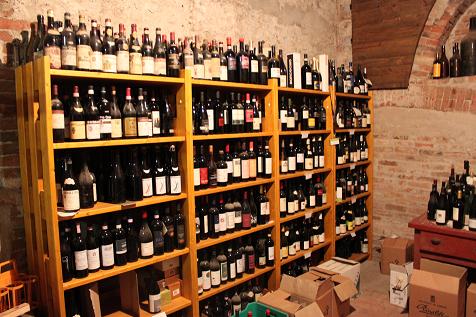 Marta wasn't around at the time, but we spent the next 15-20 minutes looking upon old bottles, photos, gifts from other wine producers and a lot of other interesting stuff.
But, let's start from the beginning.... Giuseppe goes by the name Beppe, and he produces wine in the ultra traditional style. Giuseppe is the son of Battista Rinaldi who at the age of 29 moved from Diano d'Alba to Barolo to take over the winery in 1947 after his fathers death. The winery dates back to 1899.
Battista went to Scuola Enologica di Alba and was the mayor in Barolo from 1970-1975 - highly regarded. At some point Giuseppe joined his father in the winery, having completely different views on wine making. At some point Giuseppe took over, and today he is running the vinery together with his oldest daughter Marta, who has an education in oenology from studies in Alba - not far from Barolo.
As we wrote earliere in the article, Giuseppe hasn't changed the vinery since the changing of style, when he took over from his father. It is still ultra traditional, and every step towards modern style is rejected instantly.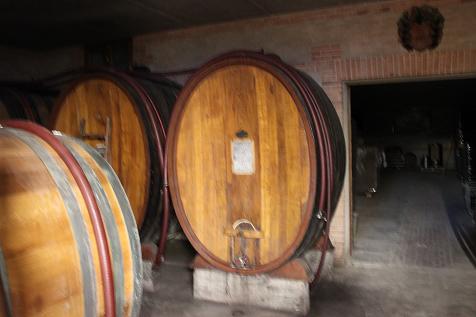 Only thing changed during this periode is the wines. Since 1993 there are no longer a standard Barolo and a Brunate Riserva, but two different pairs of blends, all sourced from 4 estate vineyards (Brunate, Le Coste, Cannubi S Lorenzo and Ravera), and this gives one blend of Brunate and Le Coste (10.000 bottles) and just as impressive the Cannubi San Lorenzo and Ravera of 3,500 bottles.
The grapes are vinified seperately in the total natural style. No yeast, no filtering, no temperature controle. At the end after vinification by this natural process the different wines are blended into Brunate - Le Coste and Cannubi San Lorenzo - Revera.
Above you see a picture from the estate. It's a bookcase with a lot of different wines from producers all around the world. The bookcase is centrally placed in the winery.
To the left you see the old barrels used for ageing of the different wines.
Below you see a really nice picture of Giuseppe Rinaldi and his daugther Marta next to the big barrels in the vinery.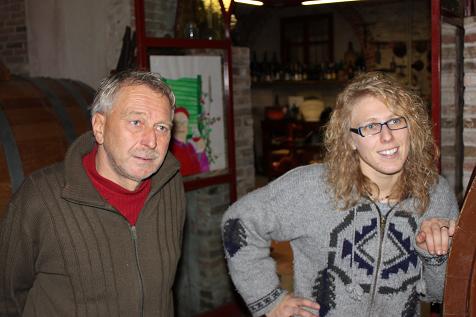 Talking about the different wines, Giuseppe Rinaldi make a fairly large range of different wines, not all Barolo's! The only thing common in all these wines is the respect for traditional winemaking. The range of wines is as follows:
Dolcetto d'Alba (*)
Barbera d'Alba (*)
Langhe Freisa (*)
Langhe Nebbiolo (*)
Vino da Tavola Rosae
Barolo Brunate - Le Coste (*)
Barolo Cannubi San Lorenzo - Revera (*)
(*) = we tasted the wine during our visit.
The total area of vineyards amount to a little over 6 hektars, and a little under 4 hektars are reserved for Nebbiolo grapes for Barolo.
This afternoon was a little special. It was the last visit on our Barolo Tour 2011, and the tasting was also a little speciel due to the fact, that the Barolo tasted was taken directly from the barrels.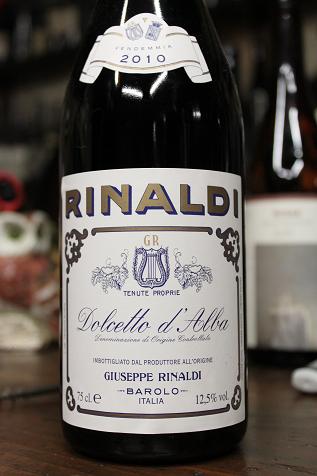 How are the wines then? Well, you have to taste it to really know :-) And you'll have to wait a while, before we say anything about it.
The reason for that is, that we dig a little deeper into how the wines are produced to get these magnificent results. First of all the production method is organic which means that Rinaldi avoid chemicals of any kind in the vineyards. How the wines becomes traditional made later on in the winery is due to the fact that Rinaldi uses no cultured yeast, uses no temperature controle and have a very long skin maceration. After the vinification Rinaldi age the wines in large botti as shown in the pictures.
The only thing not traditional regarding Giuseppe Rinaldi is actually the Barolo blends. Rinaldi blends grapes from 2 different single vineyards in the same Barolo. For instans the Barolo Brunate - Le Coste is a blend of grapes coming from the Brunate vineyard partly located in La Morra and grapes coming from the vineyard Le Coste in Monforte d'Alba. This is not very traditional. Most producers use only grapes from one single vineyard in each type of Barolo. It's unusual to mix, but has nothing to do in any way with the modern/traditional definition.
In our humble opinion liability, quality and consistancy primarily comes from the 2 small words - Azienda Agricola. It means that the producer lives on the estate and uses every day to try to understand the terroir, the climate, the grapes, diseases, the vineyard etc. Trying to understand nature is a large part of winemaking, and understanding how things works combined is crusual. Of course organic winemaking is very much listening to nature and understanding nature. Only by doing that, you are able to make great wine, your own unique, recognisable wine, year after year.
Giuseppe Rinaldi knows about winemaking, he knows about nature and he understands the different combined and complex elements. Further more he has a passion for wine, a passion for winemaking. So hard it earned him the nik name "Citrico", meaning citric acid. He has very strong opinions on matters of wine, and he is not always nice and kind to everybody. But he was very, very kind to us on that afternoon in november 2011. We even detected a smile during our conversation :-)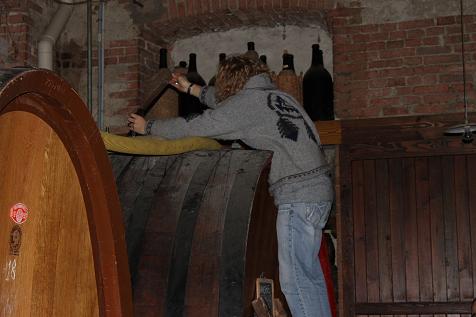 For the most part, we were talking to Marta Rinaldi. She is very kind, and she is very kind all the time - and she knows about winemaking too. One day she will take over from Giuseppe and perhaps even take the estate to new hights. You never know. It is often like that, when the young generation follows the old, but we are pretty sure that she is loyal to her fathers ideas.
As you can see in the picture to the right, she went far to get us a sample of the Langhe Nebbiolo from barrel :-)
Now, here comes the part you have been waiting for - how are the wines??
Dolcetto d'Alba 2010
Dark, fresh and very fruity. Cherry in nose and taste in an intens and clean style touched by hints of smokey notes. Concentrated and almost cherry liqueur from mid palate to finish. Fine and smooth tannins. Solid 2 glasses.
Barbera d'Alba 2010
Dark red. Cherries on the nose in a clean style. The taste is creamy and concentrated with cherries/cherry liqueur and very fine structured acidity. Extremely clean fruit in intens palette. Very nice, very well build Barbera. Solid 2 glasses.
Langhe Freisa 2010
Ruby. On the nose you smell perfume, raw meet and cherries. The taste gives cherries, light wood in a juicy and powerful taste. Really showing the potential of the little known grape Freisa. Really well tasting wine with lots of power and nice complexity and velvet smoothness. Solid 2 glasses.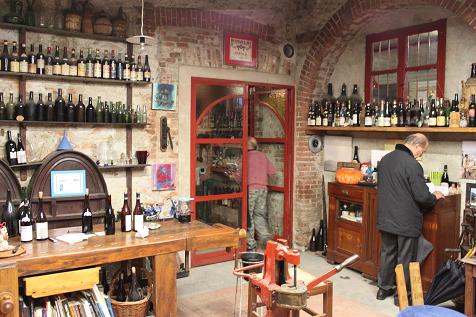 Langhe Nebbiolo 2010
Tasted from barrel. Ruby. Young and very fruity wine which have a little sweetness on the nose and in the taste. We like the deep intensity in the wine combined with raw fruitpower. Needs time in bottle to show all the potential it's got. No doubt about the 2 glasses.
Barolo Barolo Brunate - Le Coste 2008
Tasted from barrel. The nose gives red fruit in a very smooth and clean scent. The nose is of course young. The taste is smooth, really smooth with red fruit, cherries and great intensity on the palate. The acidity is precise and gives just the right bite in the mouth. The fruit is creamy and intense and half way the concentration sets in. Amazing complexity and freshness at the same time. Great harmony and rang structure. This wine of course needs cellaring, but it will continue to age when bottled for 15-20 years. Absolutely an impressive wine. Hard not to drink it now! No doubt about the maximum 3 glasses.
Not a regular tasting because of the combined bottle and barrel tasting, but enough to make a conclusion. Giuseppe Rinaldi makes some of the best traditional wines in the entire area. They are recognizable, clear fruitet, intense, aristocratic and multidimensional at the same time ranging from the easy drinkable Dolcetto d'Alba to the intense Barolo Brunate - Le Coste which will have the ability to age for decades.
A very fine way to end the Barolo Tour 2011 - among the elite from the Barolo area. We had a great time...
In Denmark the wines of Giuseppe Rinaldi is imported by BB Vinimport, Dragør.
Copyright 2012
Vinhulen.dk