Barolo Tour 2011 - Erbaluna
English version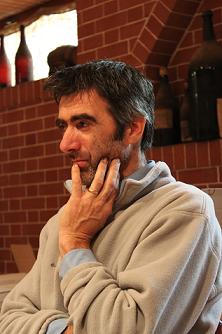 This years Barolo Tour included a visit to La Morra producer Erbaluna.
We have been drinking the wines from Erbaluna for many years before actually visiting the place in La Morra. I remember I gave the vintage 2007 very high ratings regarding the Barolo's.
Some of you will know that Erbaluna produces wine the organic way and have been doing this for many years. The winefarm has belonged to the family for many years. However the brothers Andrea and Severino Oberto turned it into a organic firm. With the new method came the new name - Erbaluna.
Normally visits in the Barolo area comes with dialog in english. But non of the brothers of Erbaluna speaks English. To our luck we have Anders B. who are capable of many things, but this day in november, Italian language capability was most wanted, and he delivered.
We startet out by hearing the story about Erbaluna from Andrea (picture to the left).
When Severino and Andrea Oberto finished school in 1985, they decided to continue the family's work on the land and in the cellar by using organical farming methods, with great respect for the environment.
Chemical treatments against parasites were substituted by less toxic substances like powdered sulphur against oidium and copper-sulphate against mildew, or by natural products such as medicinal plant extracts and propolis.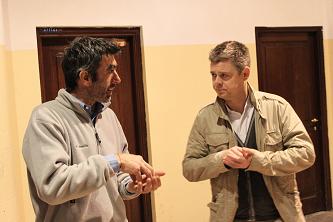 Control of weeds is carried out by means of machines and by fertilizing with manure or products containing sea weed.
Work in the cellar proceeds with the use of natural clarifying agents like bentonite, albumen, gelatine and fish-glue.
Low doses of sulphurous anhydride (about 60 p.p.m.) are used to respect the E.E.C. Standards.
All the work is certified by the ICEA (Istituto per la Certificazione Etica Ambientale) whose technicians control the work on the farm twice a year to verify if all the standards of production are respected.
Very nice to experience a different and more nature-like approach to winemaking!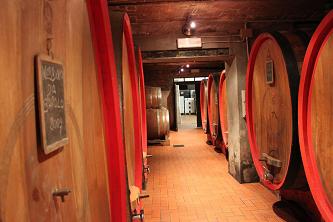 Above to the right you see Anders B. communicating with Andrea :-)
Try to take a look on the barrels in the cellar to the left - Large barrels. But if you look hard you can see small 225 liters barrique in the back of the cellar. Traditions and new methods go hand in hand at Erbaluna.
Barbera La Rosina and the Dolcetto Le Liste is put into large barrels for a few months to grow complex and fine notes, while standard Barbera d'Alba and Dolcetto are for immediate consumption.
The Erbaluna wineyards covers around 10 hectars situated around the wine cellar and family home in La Morra. One of the wineyards is the famous "Rocche", facing south.
The range of wines is traditional. The Oberto brothers produce: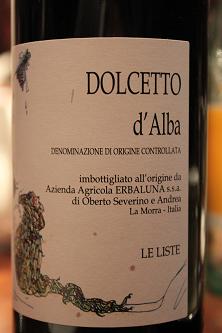 Barbera d'Alba Bettola
Barbera d'Alba Sup. La Rosina
Dolcetto d'Alba
Dolcetto d'Alba Le Liste
Erbaluna Rosso
Langhe Nebbiolo
Barolo
Barolo Vigna Rocche
The standard Barbera is kept on steel tanks while La Rosina is kept in 7 hektoliter barrels for minimum 12 months. Also the Dolcetto is kept in wood for a period before release. Erbaluna tells us that it is vital to keep the bottle for at least a year before consuming it. The wine needs time to develop!
Quite different from the normal Dolcetto drinking advice, where you have to drink the wine the same year you buy it.
Erbaluna Rosso is made from 50% Dolcetto and 50% Barbera grapes. 2007 is the first vintage of this wine,
Langhe Nebbiolo is based on 100% Nebbiolo grapes like the Barolo and Barolo Vigna Rocche.
Like almost any Barolo in the area both Barolo and Barolo Vigna Rocche spends 2 years in oak barrels.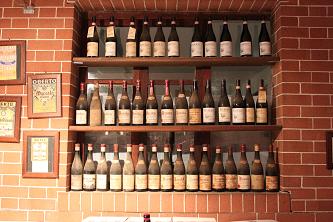 Erbaluna also produce Barolo Chinato, Grappa and Brandy.
To the left you see a selection of "old" vintages kept for family bithdays and special occacions.
After a nice and friendly talk among machines, barrels and workers, we were about to join Andrea for a little wine tasting.
It was one of these nice tastings where you could taste whatever you liked in every available vintage - complements to Andrea for excellent hospitality.
As a visitor you feel extremely velcome and it is safe to say that this is winemaking the organic style - all the way! There is simply no shortcuts here!
This early time of the day in november we where going to taste the following wines: (click on specifik wine to see rating)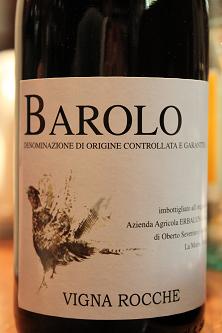 Erbaluna Rosso 2009, Erbaluna
Erbaluna Rosso 2010, Erbaluna
Dolcetto 2009, Erbaluna
Barbera d'Alba 2009, Erbaluna
Barbera d'Alba La Rosina 2009, Erbaluna
Langhe Nebbiolo 2009, Erbaluna
Barolo 2007, Erbaluna
Barolo 1997, Erbaluna
Barolo Vigna Rocche 2007, Erbaluna
Please note that some of the wines now are available in other vintages and some wines are not on sale in Denmark.
After this very nice tasting it was time to move on in the Barolo area.
So many wines, so little time :-)
It is worth to mention that it is possible to stay at Erbaluna. They have a B&B (Bed & Breakfast) with 5 double rooms and 2 small flats.
If your are into organic wine this is one of the places to visit. Everything is authentic and nice.
Don't hold back - Visit Erbaluna and others producers in the area. It's a truly spectacular place to stay for a few days....
The wines of Erbaluna is imported to Denmark by Cibi e Vini, Copenhagen.
Copyright 2013
Vinhulen.dk