Barolo Tour 2011 - Elio Altare
English version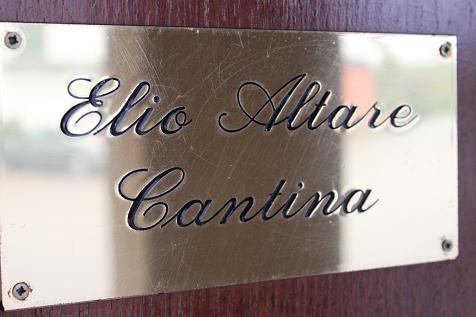 This was supposed to be one of the most looked forward to visits in the Barolo area, and it became exactly that kind of visit when we visited Cantina Elio Altare for the second time in 3 years in november 2011 in the little town of La Morra.
Just look at the pictures. They tell a story of large smiles - all the time. It's so easy to smile and be positive when you are together with Silvia and Elio Altare.
The reason for revisiting Elio Altare was ofcourse to taste the new vintages and give some of the new guys on the tour a chance to meet this wonderful producer - dedicated to make some of the best wines in the area.
It's not diffecult to find the main road up to Elio Altare, but when you turn right on to the gravel road you have to know where the cantina is to find it without help from local people. Fortunately we have been there before, so this time went without further delay :-)
It's always a pleasure to be welcomed by Silvia Altare. She has this wonderful split personality between expert in wines and winemaking and then this total party girl gene. This day we say both sides of Silvia - it was our lucky day....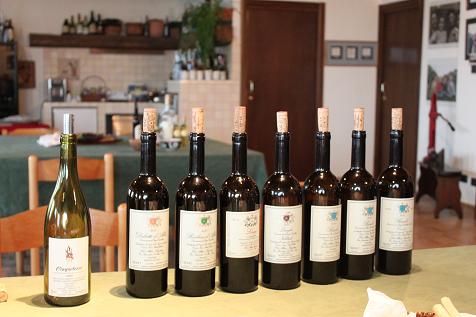 BUT, our luck wasn't over for the day. Elio Altare himself was present in the cellar, and later on, during the tasting, he joined us for a little conversation about winemaking - how true winemaking is done, according to mister Altare. A rare opportunity to hear the opinion from one of the absolute topproducers in the area and an icon in modern winemaking. When Elio Altare speaks, one tends to listen!!
As you can see in the picture to the right, it was almost every wine from the producers range this time.
We started with Elio Altare new project. A white wine by the name Cinquetette bottled at the Campogrande Estate in Riomaggiore in the region Liguria. There is also a sweet white wine by the name Sciacchetrà, but we tasted the dry white this day. The wines were known already in the Roman Empire. Elio Altare and Antonio Bonanni rediscovered the great potential of this terroir.
Also not to be forgotten is the red wine from the estate - Vino da Tavola Rosso.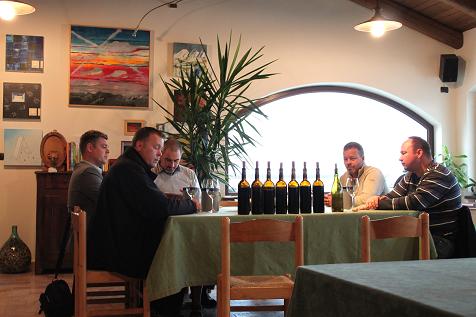 Sivia told us a lot about this new project of her father. Elio Altare has found a new project to put some of his well known energy into. If you visit the estate you can find Elio climbing steep wall to get the best grapes for the wine. This is typical Elio Altare - always on the move, always searching for new and better methods to produce wine.
Here is a little background on the Cantina Elio Altare. The estate was bought and founded in 1948 by Giuseppe Altare. In those days it went by the name Cascina Nuova, and practiced mixed farming with a vineyard area of 5 hectares, but they also cultivated apples, pears, peaches and cereals.
The full name is still Azienda Agricola Cascina Nuova Elio Altare - according to the website.
Giuseppe Altare was succeeded by the son Giovanni Altare, but the production continued in a primitive fashion, with oxen utilised to plough the soil until 1971. Gradually there was a turn to farming with the use of various chemical products such as pesticides and artificial fertilizer, with an aim to lower costs and facilitate tasks while increasing growth and reducing disease. With the economic difficulties at the time in Piedmont, the need to produce in greater quantities was greater than that of improved quality.
In the picture you can see "the gang" having a good time enjoying the wines.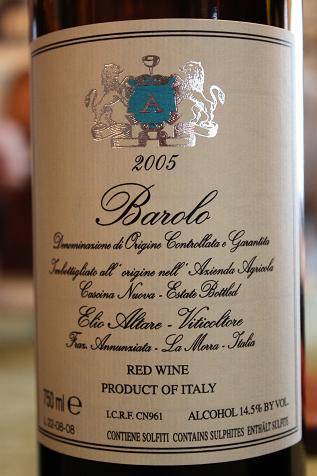 Elio was brought into the picture during the 1970s, but he participated in the vinification from an early age, Elio Altare was on a path to succeed his father during the 1970s. Convinced of his observation that the fruit trees of the property were dying, Elio Altare had the soil analysed in 1976, confirming his theory that the soil was no longer alive.
Elio Altare went to Burgundy in 1976 to observe viticultural and vinification methods. When he returned Altare became seriously ill - poisoned by the toxins used in chemical farming. After advice from the doctor and inspired by Angelo Gaja, Altare decided to make drastic changes to the the estate's practices. As Giovanni Altare was in disagreement with this decision, Elio Altare took a saw to cut down all the estate's poisoned peach trees and cut to pieces the large old botti barrels of the cellars. This was followed by initiating several practices set to improve the quality of the grapes. As a result of the conflict, Giovanni Altare deemed his son unworthy of succession and disinherited him, leaving the estate to his two daughters when he died in 1985.
Elio Altare was eventually able to buy the property from his sisters who were disinterested in producing wine, and continue the restructuring of the estate with focus on extreme yield reduction, minimising all chemical use and other hygienic measures. The first vintage under Elio Altare's name was that of 1981. Elio worked together with Domenico Clerico, Luciano Sandrone and Enrico Scavino to solve problems of improving the quality of their Barolos.
At this time the daughters Elena and Silvia have a very large part of running the family estate. It is seen right away when you visit. The 2 times we have been there, it is Silvia who welcome us with open arms and big smiles all the time. A truly nice place to visit. The estate is now covering some 10 hectares with a production of around 60.000 bottles a year.
In the picture to the right you can see the Barolo 2005.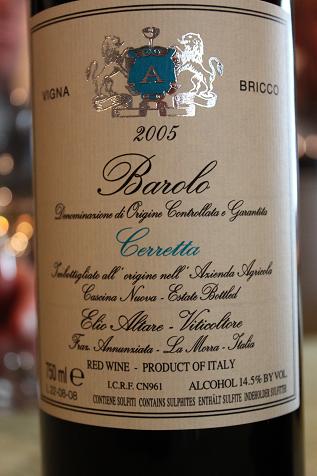 The range of wines from Elio Altare at present day are:
Barolo Vigneto Arborina
Barolo Brunate
Barolo Cerretta Vigna Bricco
Barolo
Nebbiolo Langhe
Dolcetto d'Alba
Barbera d'Alba
Langhe Rosso Arborina
Langhe Rosso Larigi
Langhe Rosso La Villa
Vino Rosso L'Insieme
+ the new whites from Liguria
To the left you can see the Barolo 2005 Cerretta Vigna Bricco.
This nice november day in 2011 we were to taste the following wines:
Cinqueterre 2009, Campogrande
Dolcetto d'Alba 2010, Elio Altare
Barbera d'Alba 2010, Elio Altare
Langhe Larigi 2008, Elio Altare
Langhe Nebbiolo 2010, Elio Altare
Barolo 2007, Elio Altare
Barolo 2006, Elio Altare
Barolo 2005, Elio Altare
Barolo Cerretta 2005, Elio Altare
Here is a data overview of all of the wines made by Elio Altares:
The grapes for Dolcetto d'Alba comes from La Morra and Dogliani and is made entirely from Dolcetto grapes. Elio Altare produces 18.000 – 20.000 bottles a year.
Below you see Silvia and Elio Altare in dialog.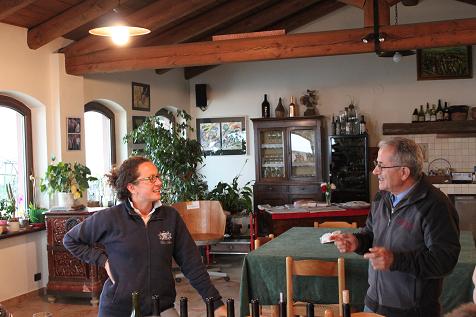 Barbera d'Alba is produced from Barbera grapes entirely from the Larigi vineyard in La Morra. Elio Altare produces 10.000 – 12.000 bottles a year. Langhe Rosso Larigi is produced entirely from Nebbiolo grapes coming from the Larigi vi-neyard in La Morra. The vines are the original vines planted in 1948 by Giovanni Altare. Pruduction is around 2.500 – 3.000 bottles a year.
Langhe Rosso Arborina is produced from Nebbiolo grapes coming from La Morra. Part of the blend is from original 1948 vines planted by Giovanni Altare and the other part is from vines planted in 1989.
Langhe Rosso La Villa is produced from 60% Barbera and 40% Nebbiolo grapes. All grapes comes from La Morra. The wine is produced in a number of 2.500 - 3.000 bottles a year.
Langhe Nebbiolo is produced entirely from Nebbiolo grapes coming from La Morra. The production is approximately 8.000 bottles a year.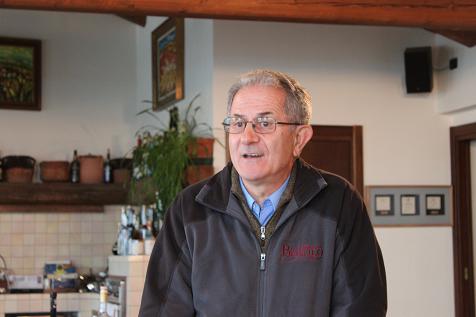 Barolo is produced from Nebbiolo grapes coming from La Morra and Castiglione Falletto. The production is around 12.000 – 13.000 bottles a year.
Barolo Cerretta Vigna Bricco is produced from Nebbiolo grapes coming from Serralunga d'Alba, where you find the Cerretta vineyard. Approximately 6.000 bottles are produced every year.
Barolo Vigneto Arborina is produced from Nebbiolo grapes coming from La Morra. Part of the blend is from original 1948 vines and the other part is from vines planted in 1989. 8.000 bottles are produced every year.
Barolo Brunate is produced from Nebbiolo grapes coming from the Brunate vineyard in La Morra. The annual production is 1.200 – 1.500 bottles.
Vino Rosso da Tavola L'Insieme is produced from Cabernet Sauvignon 40%, Barbera 20%, Nebbiolo 20%, Dolcetto 10%, Syrah 5%, Petit Verdot 5%. All grapes comes from La Morra. The wine is very special be course the wine is made only to create profit to help people in need.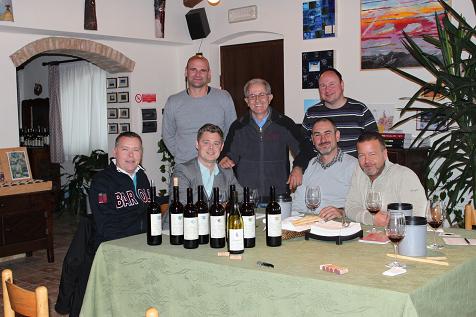 It is made in cooperation between 8 wine producers - Elio Altare, Mauro Veglio, Federico Grasso, Giuliano Corino, Carlo and Lorenzo Revello, Gianfranco Alessandria, Beppe Caviola and Paolo and Giulio Morando. Annual production is 3.000 bottles. Every producer makes his own blend of this VdT L'Insieme.
Above you see Elio Altare explaining us how to make wine Altare style :-)
To the right you see Vinhulen.dk together with Elio Altare. Have you ever seen the movie "The Untouchables" from 1987?? Just like the foto in the movie - but we were not armed :-)
Now we had the rare opportunity to talk to Elio and Silvia about how they look upon winemaking in 2011. When we say rare, it's not because it's rare to meet Elio and Silvia, when you visit, but because there is years between our visits.
According to Elio Altare the problem now a days is that the different winemakers use consultants in their effort to produce the best possible wine.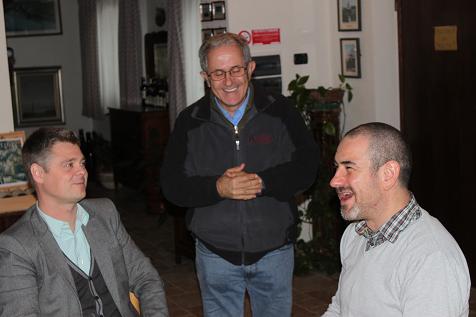 These consultants pop by from time to time, spend a few hours at the estate and tell the owner how to make the wines. These consultants don't know the land and they don't have the background and knowledge about the particulary terroir. This tend to lead to wines tasting all the same, even if they are from different producers in the area because they are all made the same way!
Elio Altare strongly feels that the only way of producing the best possible wines is by knowing the land, the terroir, the climate, the different types of weather, the condition of the soil etc. The only way of knowing that is by being present all the time - 365 days a year. As a consumer this can be put into 2 tiny words - Azienda Agricola!
This means that the winemaker is present at his own estate and knows all about his land, his grapes, the weather, the soil etc.
Elio is present - both in the vineyards and at this tasting and you can see him transform into a passionate mood, when we speak about winemaking.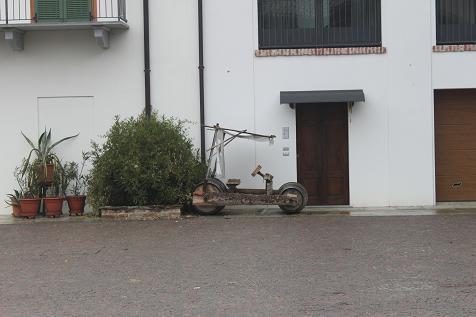 Strong feelings, strong emotions - every bit of passion is in these bottles, every bit of temper is in these bottles.
That is why Elio Altares wines are so extraordinary well made - second to none!
All the time during our little conversation still with a very friendly attitude and Silvia laughing and joking with her father.
It is crystal clear that there is love and unity in this family.
We promised Elio and Silvia to tell every winelover in Denmark, that true wine are made in Azienda Agricola's. Now we have!
After a very nice couple of hours it was time to move on. As we were leaving we spottet this Flintstone car you can see in the picture to the right. Made by Silvia Altare and some of her friends.
Actually Silvia got quite hurt from an accident with this funny vehicle and she haven't used it since, but it's tells a story about this extremely professional girl - not entirely dedicated to wine all the time. Still room for pleasure, still room for laughing and joking. We enjoyed the company of Silvia and Elio so much. It is truly one of the nicest places to visit in the area.
The wines of Elio Altare is imported to Denmark by Enoteca, Copenhagen.
Copyright 2012
Vinhulen.dk