Barolo Tour 2011 - Aldo Conterno
English version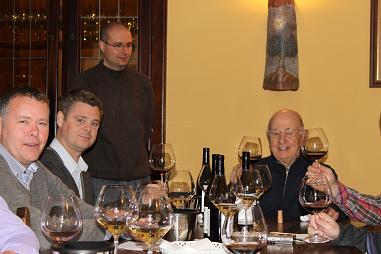 For the second time in 3 years we met with Giacomo Conterno at Podere Aldo Conterno in Monforte d'Alba. This time also including a tour round the cellar, but more about that later in the article!!
But the most wonderfull present this time was our good fortune and luck to meet mr. Aldo Conterno himself. A really rare opportunity to say hello to the man himself. Not that Giacomo and his brothers are not enough and most capable of producing wines in premier league - they are indeed - but there is just something about meeting the old master in person. We will remember this for a very long time!!
To the left you can see Vinhulen.dk together with Aldo Conterno toasting!
The reason for visiting Aldo Conterno again is purely respect for the high quality in the wines and our friendly relation to Giacomo who is very ambitious and serious about winemaking. Every drop of red and white gold is cared for! Every opportunity to taste these wines is worth grapping.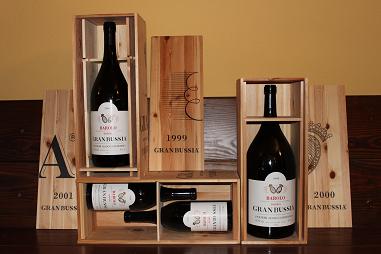 Before we descripe the visit in november 2011 we tell you the story about Podere Aldo Conterno. It's a story dating back to the 19th century, when the forefathers of Aldo Conterno emigrated to Argentina, but on account of various family vicissitudes they returned to Italy after a few years.
It was then that Giovanni Conterno brought his family back to the small winemaking farm of his father Giuseppe in Monforte d'Alba and started helping him in the production of local wine. With his return to the business, Conterno increased the production of wine, to be sold in casks not only in Piemonte and Liguria but also as far as America, thanks to a relative who had stayed out in Argentina.
In response to market demand, the Conternos then felt the need to create a superior Barolo, to be produced exclusively from the best vintages, with a long vinification period and capable of lasting over time. In the 1920s the first Barolo reserve was bottled.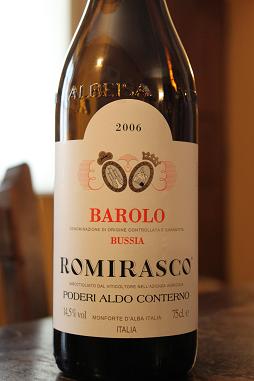 At the end of the '30s Giovanni handed over the reins of the business to his son, Giacomo, who continued his father's tradition with commitment and foresight, visiting his clients in person and taking advantage of the prestige which Barolo was gathering to establish his own label in many regions of Italy.
During these years, his sons Giovanni and Aldo began to assist and follow their father in running the business. In the mid-'50s Aldo decided to set out for America, with the ambition of creating a vine-growing and winemaking business with the help of an uncle who lived in California.
This period in the United States turned out to be very constructive and unforgettable for Aldo but for a variety of reasons he had to abandon the country and come back home to his family business in Italy.
Giacomo handed over the activity to his sons in 1961. It was a thriving and prestigious business in the Langhe zone, recognised over most of the country.
The five-year experience in the United States had kindled within Aldo a desire to establish a business of his own. It was for this reason that he decided, after working for a considerable time alongside his brother, to carry out the dream which had been interrupted in America. He bought the "Favot" farm and founded the estate "Poderi Aldo Conterno" in 1969.
This is the story until the very start of Podere Aldo Conterno in Monforte d'Alba, but a lot of things have happend since 1969.
Today the estate covers more than 28 hectares of vineyard. Production sums up to 80.000 bottles a year.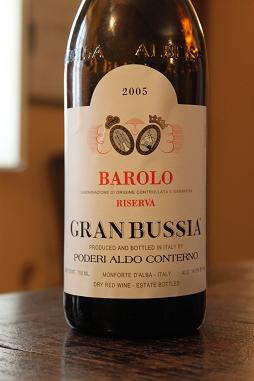 Most of the vineyards are situated about 400 hundred meters above sea level facing South South-West. The wines are fermentated in stainless steel, and all the Barolo's are ages in big Slavonian oak casks. The other wines are aged in french oak barriques.
It is the mix of large oak casks and french barrique that originally divided the 2 brothers Giovanni and Aldo Conterno. When Aldo went solo in 1969, most people agree that it was conflicting winemaking philosophies among the brothes.
They agreed on the view that the "modernist" approach of using small barriques in combination with shorter maceration times undermines the character of Barolo and add a vanillin sweetness to the wine that overrides the inherent fruit of the nebbiolo, but Aldo Conterno used barriques to age the other wines, where Giovanni is strictly traditional allround.
While Aldo founded Podere Aldo Conterno in 1969, Giovanni purchased the Cascina Francia vineyard in Serralunga in 1974, bringing an end to the era of purchasing fruit from local farmers. The first vintage of wine made from own vineyard was 1978, though the name Cascina Francia did not appear on the label of the wine until the 1980 vintage.
Today Giovanni's son Roberto runs the estate Giacomo Conterno in Monforte d'Alba, and the sons of Aldo Conterno runs Podere Aldo Conterno in Monforte d'Alba.
Podere Aldo Conterno owns 3 cru vineyards - Romirasco, Cicala and Colonello in Monforte d'Alba. Perhaps you remember the wine label on the Barolo's from Aldo Conterno. They are named after the vineyards. Now you will perhaps wonder, if we forgot the GranBussia? No, no, no, but GranBussia is a mix of grapes from Romirasco, Cicala and Colonnelo.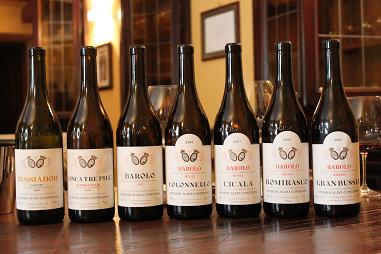 Barolo GranBussia is the special Riserva version of the Barolo's
Today the range of wine consists of 10 different wines - 9 red and 1 white:
Chardonnay Langhe Bussiador
Langhe Dolcetto Masante
Barbera d'Alba Conca Tre Pile
Langhe
Langhe Nebbiolo Il Favot
Barolo
Barolo Colonello
Barolo Cicala
Barolo Romirasco
Barolo Riserva GranBussia
Now a little about the different wines!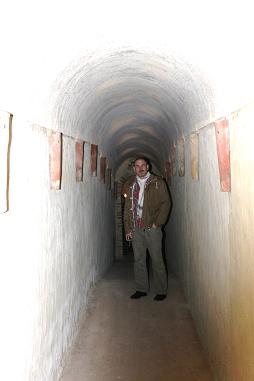 Chardonnay BussiaDor is a 100% Chardonnay wine. 15 months in barrique.
Langhe Dolcetto Masante is a 100% Dolcetto wine. 8 months in stainless steel.
Barbera d'Alba Conca Tre Pile is a 100% Barbera wine. A few months in stainless steel and then 12 months in new barrique.
Langhe is made from Freisa 80%, Cabernet Sauvignon 10% and Merlot 10%. 5 or 6 months in stainless steel and then 6 months in barrique.
Langhe Nebbiolo Il Favot is a 100% Nebbiolo wine. 5 or 6 months in stainless steel and then 18 months in new barrique.
All the Barolo's are made from 100% Nebbiolo, according to Italian wine law.
Barolo in stainless steel for 4 to 5 months and then big Slavonian oak for 26 to 28 months.
Barolo Colonello in stainless steel for 3 to 5 months and then big Slavonian oak for 28 to 30 months.
Barolo Cicala in stainless steel for 3 to 5 months and then big Slavonian oak for 28 to 30 months.
Barolo Romirasco in stainless steel for 3 to 5 months and then big Slavonian oak for 30 to 32 months. Barolo Romirasco have been out of production for many years but returned in vintage 2004 and forward.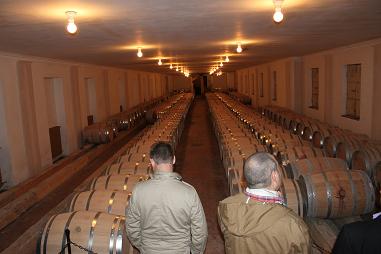 Barolo Riserva GranBussia blended from grapes from Romirasco 70%, Cicala 15% and Colonnello 15%. In stainless steel for 3 to 5 months and then big Slavonian oak for 40 to 44 months.
This is without a doubt one of the greatest Barolo's made in the area!
Now it was time to taste some wines and hear a little news about Podere Aldo Conterno since our last visit. Giacomo told us that he has big expectations for vintage 2008 and also vintage 2011 looks good. Of couse a little early to say anything, but just a feeling based on experience.
Giacomo could also report that the quality between expensive and cheap wines are on it's down. Expensive wines are still getting better due to technique, but cheap wines are doing the same, but in a much faster rate. This calls for concentration in winemaking everywhere to stay ahead.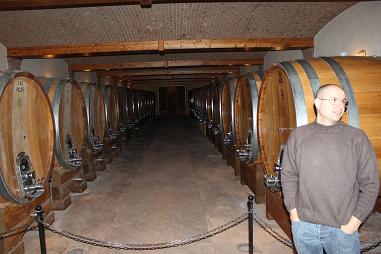 Back to the wine tasting. We were presented to the following wines. If you want to see our review of a particulary wine or more, just click on the wine, and you'll be forwarded to our wine database with almost 5.000 Italian wine reviews:
Chardonnay BussiaDor 2008, Aldo Conterno
Barbera d'Alba Conca Tre Pile 2008, Aldo Conterno
Barolo 2007, Aldo Conterno
Barolo Colonello 2007, Aldo Conterno
Barolo Cicala 2007, Aldo Conterno
Barolo Romirasco 2006, Aldo Conterno
Barolo Riserva GranBussia 2005, Aldo Conterno
Although 2007 is a medium quality vintage, the wines from Aldo Conterno is outstanding. The Barolo's are classique, powerful, soft and well structured with perfect balance. These wines are for ageing in your cellar, but come to think of it, I can't remember any bad experiences ever tasting these wines. Always some of the best from the area.
As usual we started out with the white wine BussiaDor and left it in the glass until we had finished all the Barolo's. Retasting it it still had the power, fruit and balance to match the red monsters - impressive.
After a couple of very nice hours of wine tasting, we toured the cellar as you can see in the pictures. This was our first time there. Impressive - like everything else about Podere Aldo Conterno.
Time to move on into new adventures in the area...
In Denmark you can find the wines from Aldo Conterno at Domaine Brandis.
Copyright 2012
Vinhulen.dk