Vinhulen visits the wine producer Schiavenza 2008.
Schiavenza was previously one of the producers we were most looking forward to visiting. We remember a time in 2003 when Vinhulen.dk had a Barolo theme tasting and out of nothing came Mrs Schiavenza's Barolo Prapó and took a grand second place. That was the starting point for our undivided attention to this wonderful producer, who has since then achieved international fame.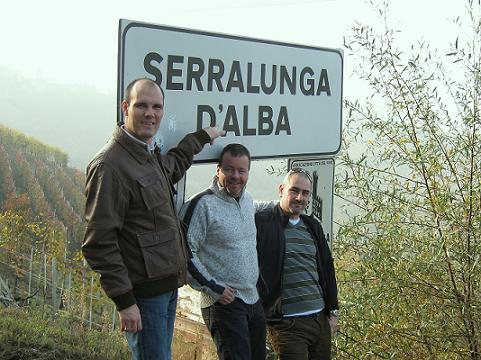 Yet another trip to Serralunga d'Alba


We only had an agreement that we would ring before we came, but as we stood in Serralunga, we took a chance and visited them in the late afternoon, 11th November 2008.
There was only the head of household present, but he was more than ready to let us taste some of the glorious selection. Madam Schiavenza had forgotten to tell the man that we would be coming, so only Dolcetto, Barbera and the standard Barolo were on the table.
With a 'solid' mix of English and Italian we introduced ourselves well enough for the firework display of 'keeper' wines to be allowed access to the room. It opens doors when the Italians find out that we are just as bad at Italian, as they are at English. So we tested our sign language skills and found that uuuuhmmmm is a very international word!
Particularly impressive is the fact that despite interrupting the man in the middle of his daily work, there were open arms, a friendly smile, and soon a warm atmosphere with wine flowing. .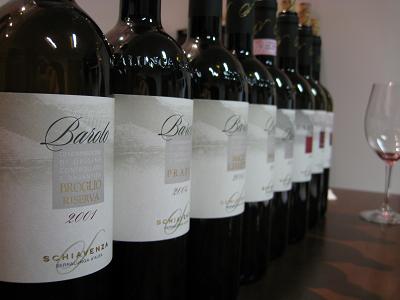 A string of precious drops from Schiavenza - Barolo Broglio Riserva 2001 was a bonus!


That late afternoon we tasted:


Dolcetto 2007
Dolcetto Vughera 2007
Barbera d'Alba 2005
Barolo 2004
Barolo Broglio 2004
Barolo Bricco Cerretta 2004
Barolo Prapó 2004
Barolo Broglio Riserva 2001


See the ratings in our wine database:
Dolcetto 2007
Dolcetto Vughera 2007
Barbera d'Alba 2005
Barolo 2004
Barolo Broglio 2004
Barolo Bricco Cerretta 2004
Barolo Prapó 2004
Barolo Broglio Riserva 2001


You will get the notes about the above wines later, but let's just say right away that you should be especially aware of Broglio 2004. It is a crystal clear 3 glass wine and has a quality entirely for itself. If you can reap a Broglio Riserva 2001 from the importer, it is also a real quality wine!


Obviously, we had to have a walk in the basement to see the facilities....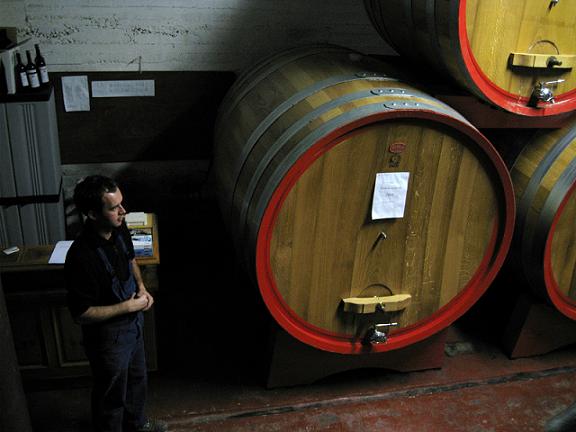 Vinhulen.dk explains a little about fermentation and storage methods.
Schiavenza does not have automatic temperature control. Here's a bird's eye view.


We went through the cellars and stopped briefly at the old cement tanks which Schiavenza cools with water if necessary. They explained that cement works particularly well because the temperature changes slower when the surroundings are of cement.
Just think that it is possible to produce such good wines without automatic temperature control -amazing!


Well, then the talk turned towards dinner. The fact is that Mrs Schiavenza runs an excellent restaurant in the same building, and not just any old restaurant - no, we are talking gourmet here.
We could just manage a quick trip down to the local coffee shop for 4 espresso and a plate of sausage and cheese, a walk up to the castle and then back again to say hello to a heavily pregnant Mrs Schiavenza (due in just 15 days at that time) - and still working in the kitchen! Not all that talk about maternity leave here - a restaurant doesn't open itself :-)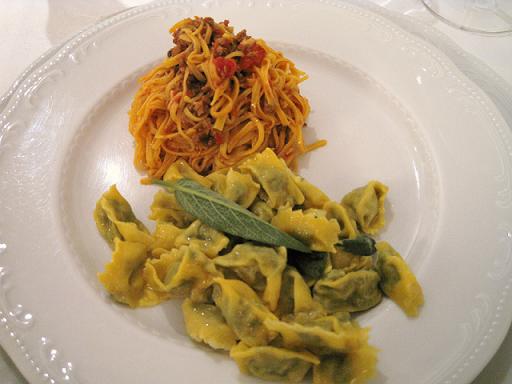 A small part of Mrs Schiavenza's culinary experience for her guests enjoy....


After 12 courses, we were exceptionally full, so a little walk around the town helped it all to fall into place. We could digest, while considering the city's castle in its evening atmosphere. This you have to see...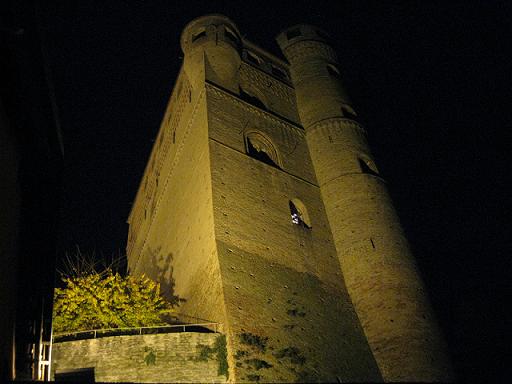 The time had come to head home, reflect on the day's experiences and prepare for tomorrow's visit. We could still envision the shelves with the older wines in Schiavenza's tasting room.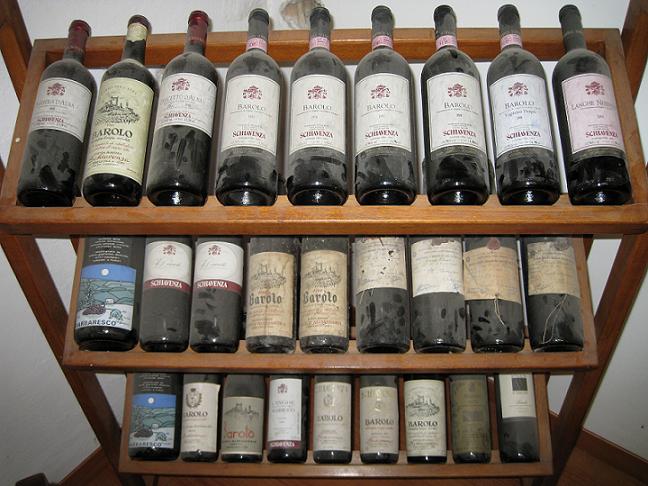 Carlo Merolli imports wines from Schiavenza to Denmark.