Vinhulen visits the wine producer Ettore Germano 2008.
At Vinhulen.dk we've been following Ettore Germano since the 1998 vintage of Barolo's. At that point Ettore was still living, but we never had the pleasure of meeting senior before his death.


Today it is Sergio Germano who is the driving force behind the company. The story of my relationship with Sergio is somewhat special. We had written a good review of the 1998 vintage of Barolo Cerretta. Suddenly there appeared a man at my workplace who wished to speak with me. I had no idea who it was, but it turned out to be Sergio Germano who had come past with the new 1999 vintage which he wanted me to taste.
The year was 2003, and before we had even drunk a cup of coffee, Sergio had invited the whole family on a truffle hunt together with Ettore and his dog. Unfortunately we didn't make it in time to meet Ettore, but we had the honour of meeting Sergio just now in 2008!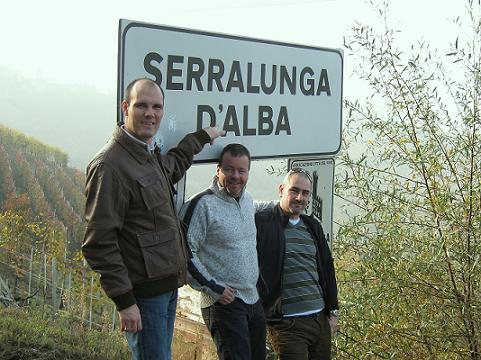 Feet planted firmly in Serralunga's soil. Thomas, Michael and Frank.


We met up at 10am on a sunny November 11th in 2008 at Sergio Germano's home.
Sergio had just been on a trip to Holland, and had only just got home at 4 the same morning, though you wouldn't have guessed from looking at him. In top form, humorous and as warm as ever.


We started with a walk up the road to see Sergio's vineyards – well some of them anyway; he has fields in several locations. But we got to muddy our boots in the Cerretta field and taste the grapes as you can see in the picture below. We follow the motto "be prepared son, be prepared", so our mountain boots had a permanent place in the car. No trips out in the vineyards with our Danish lace-up polished shoes!


Sergio Germano is one of the areas experimental wine producers. He makes many types of white and sparkling wine, which we later got to know down in the basement.
That morning the sun was shining from a cloud free sky and we could enjoy the bird song and view over a misty dale while we wandered through fields with Sergio. We talked about everything from the division of the Cerretta vineyard to the price of houses in the area. It was pure meditation, which you just can't find in good old Denmark – sorry friends!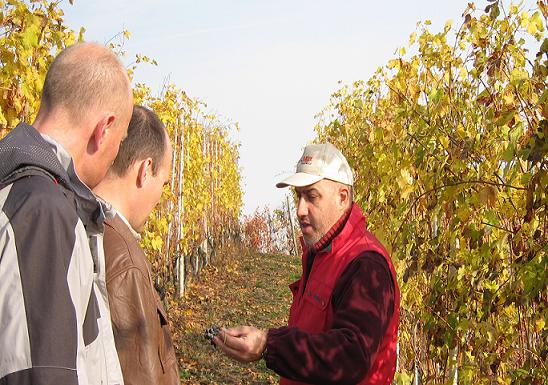 Henrik and Thomas together with Sergio in the Cerretta vineyard. We are studying the colour in the grape juice.


After the tour through the vineyard we came back to the winery, where we quickly got to tasting the 2008 vintage from steel tanks. There were both Dolcetto, Barbera and Barolo in all forms, as well as white wine - all of which were in the process of fermentation or just finished. It was very exciting to taste all these young wines which don't resemble anything you know from a bottle.


We then went down to the basement, where we got to taste all of Sergio's experimental wines as well as the well known. We know Langhe Chardonnay and Binel. Maybe Herzu, a Riesling, but Sergio also produces sparkling wines with Nebbiolo and Pinot Noir – separately. It was exciting to taste all these wines directly from the barrel. There was a glint in Sergio's eye and it was clear to see his heart was really in his work, and he is damn good at it! You will get to taste it as well when the wines get bottled and imported by Viniropa.


Well, four people from Vinhulen.dk with livers still intact, could appear as if they were ready for more, and Sergio was also warm and if possible, even more generous with his taste samples.


We proceeded to barrel samples with Barolo 2007 and 2006, with both Prapo, Cerretta, La Sarizza and standard Barolo.
It was a great experience to taste the development of the different wines from year to year - more or less characterised by the cask and the various vintages quality.
2008 is a great vintage, 2007 is a good vintage and 2006 is satisfactory - surrounded by good year classes but perhaps in danger of being forgotten.
Well, we quickly tasted 10-12 wines taken directly from the barrel with a pipette. A wonderful way to taste.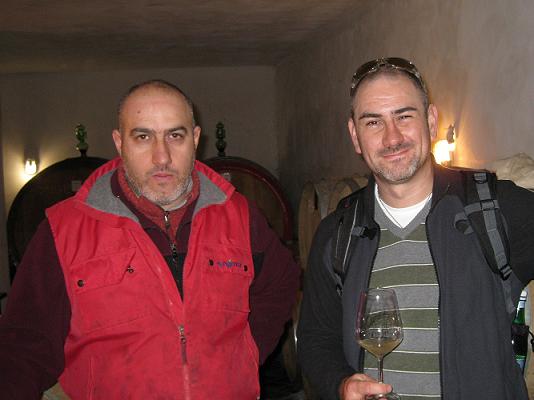 Frank (with a Riesling in his glass) with Sergio Germano.


Now the time had come for tasting the wines already in the bottle. We tasted the following:


Spumante Alta Langa 2004
Chardonnay 2007
Binel 2006
Barbera Vigna del Madre
Dolcetto 2007
Riesling Herzu 2007
Balou 2005
Nebbiolo 2007
Barolo 2004
Barolo Prapo 2004
Barolo Cerretta 2004
Barolo La Sarizza 2004
Barolo La Sarizza Riserva 2003
Barolo 2005
Barolo Prapo 2005
Barolo Cerretta 2005
Barolo La Sarizza 2005


Look at the ratings directly in our wine database:
Spumante Alta Langa 2007
Chardonnay 2007
Binel 2006
Barbera Vigne del Madre 2006
Dolcetto 2007
Riesling Herzu 2007
Balau 2007
Langhe Rosse 2007
Barolo 2004
Barolo Prapó 2004
Barolo Cerretta 2004
Barolo La Sarizza 2004
Barolo La Sarizza Riserva 2003
Barolo Serralunga 2005
Barolo Prapó 2005
Barolo Cerretta 2005
Barolo La Sarizza 2005


As it turns out, it's "hard" work to taste so many wines, and we still had another two wine producers to visit that day!
The results of these tastings will be put online at Vinhulen.dk. Already we can say that the 2004 vintage was an experience, Barolo Cerretta especially is excellent and a solid 3 glass.


We also had the pleasure of enjoying a little grissini, but today's great gastronomic experience was a small jar of slightly sweet, concentrated fruit compote which is intended to accompany Murazzano cheese or similar. Produced by Sergio's wife - excellent - and let's just say that there were plenty more jars brought home in our suitcases.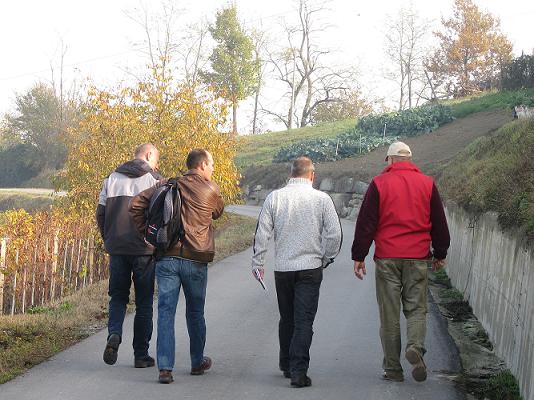 On the way to the vineyards, deep in conversation with Sergio Germano.


After all these wines from steel tanks, barrique, botti and bottles, Sergio decided that he would be even more generous. He invited us to a quick lunch in Serralunga d'Alba before we moved on.
Here we met the extended version of Carne Cruda (freshly chopped raw meat served with lemon juice and fresh black pepper.)
Usually this local speciality is served in small portions - but not here. A plate full of best quality meat - arguably 250 grams per person. We are feeling great on Tuesday, but later in the week, we could definitely do with a single day without carne cruda. A meal where the meat had seen at least a glimpse of a fireplace! It's pretty hard on Danish stomachs caused quite a queue for the lavatory :-)


Sergio Germano was simply joyous that day, he has a great openness and warmth that few others can offer. We had a fantastic experience, and if we didn't have to go on to other producers, we would probably been there still.
Now we are looking forward to the day when Sergio and his wife come to Denmark. Then we can show them how this little northern country is screwed together.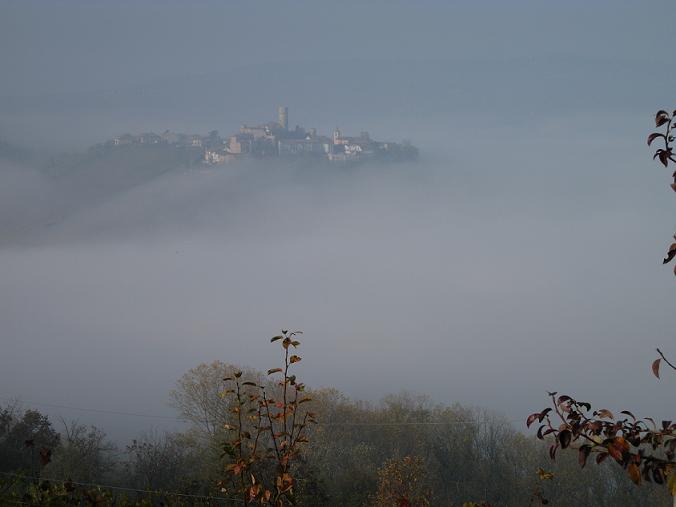 The view from Sergio's vineyards in Serralunga d'Alba. In the background is Castiglione Falletto raised above the fog!
In Denmark, Viniropa imports wines from Ettore Germano. Viniropa