Vinhulen.dk visits the wine producer Conterno Fantino 2008
Brilliant sunshine, early afternoon, 10th November 2008. Vinhulen.dk was driven to Monforte d'Alba to greet one of the big Barolo producers and see the place and taste the wines.


Conterno Fantino produces around 125,000 to 140,000 bottles of wine per year, so they're definitely not amongst the small fry! On the other hand, Conterno Fantino a relatively new producer, beginning in 1982 with Guido Fantino and Claudio Conterno leading the company.
We were greeted by Alda Fantino, born a Conterno, but now a Fantino. Neither gentlemen were present that day, but that didn't matter - we were in excellent company with Mrs Fantino.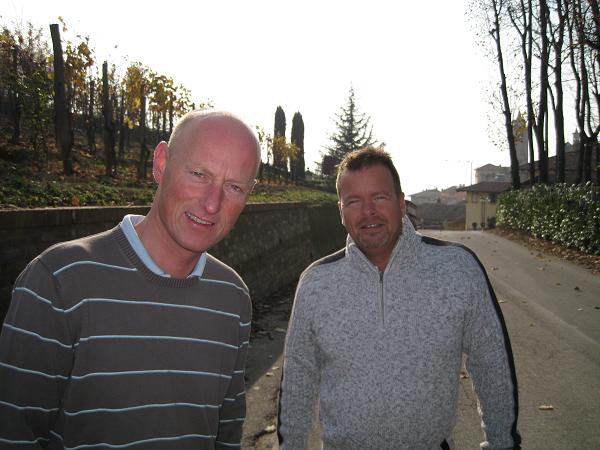 Michael & Henrik in front of Conterno Fantino on a beautiful sunny day in November 2008.


It was one of the visits, where we didn't get to see the whole production, but we saw the cellar and the bottling room.
We started with the tasting, and then got a quick look at the cellar and bottling room.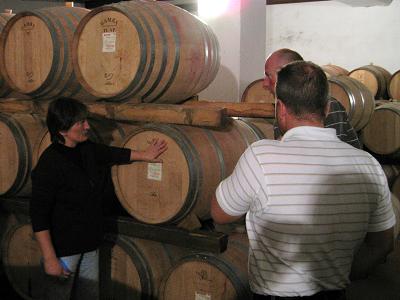 Alda Fantino tells Michael and Henrik (hidden) about the storage of Barolo in barrique - a modern Barolo. The Barolos macerate for "only" 5-6 days.



That afternoon we tasted the following wines:


Dolcetto d'Alba Bricco Bastia 2007
Barbera d'Alba Vignota 2007
Langhe Nebbiolo Ginestrino 2007
Langhe Rosso Mon Pra 2006
Barolo Vigne del Gris 2004
Barolo Vigne del Gris 2005
Barolo Vigne del Gris 2006 (barrel test)


You find the wines in our database here:

Dolcetto d'Alba Bricco Bastia 2007, Conterno Fantino
Barbera d'Alba Vignota 2007, Conterno Fantino
Langhe Nebbiolo Ginestrino 2007, Conterno Fantino
Langhe Rosso Mon Pra 2006, Conterno Fantino
Barolo Vigne del Gris 2004, Conterno Fantino

Throughout, there is talk of extremely robust wines of all types. We fell for Langhe Nebbiolo Ginestrino, which was marvellous that day.
On the Barolo Front, we were particularly impressed by Vigne del Gris 2004 vintage (see picture below). It gets 3 glasses. Perhaps the 2006 vintage is on the same level, but that will be seen in the course of a few years ...
It was extremely interesting to taste 3 vintages of the same wine in one sitting.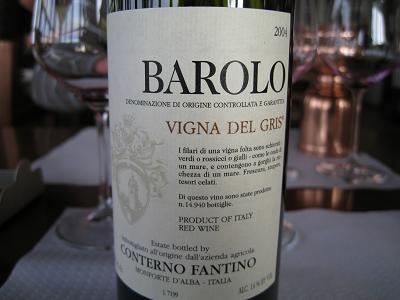 A good bid for a very good Barolo from 2004 vintage.


While we sat there and tasted all the delicious wines in the large and well equipped tasting room, we could observe the producer's large collection of gifts, including various wine bottles from around the world. It gave rise to questions about the different objects and the stories behind them.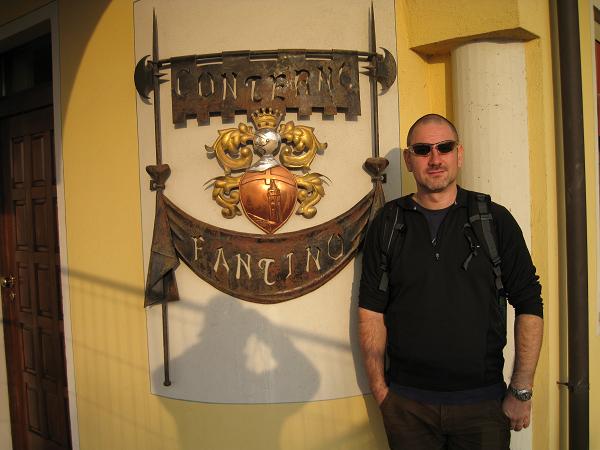 Frank in front of Conterno Fantino's arms.


After almost 2 hours it was time to move on. A lovely experience enriched by the company of Mrs Fantino.
There were still a few hours of sunshine to enjoy, which we spent in the nearest town to the music of 4 espresso and a plate of local cheese and sausages - not too much - there had to be room for tonight's usual 10-course menu at a local restaurant...


Philipson Wine imports Conterno Fantino to Denmark.