Vinhulen.dk's Barolo Tour 2012
Initial article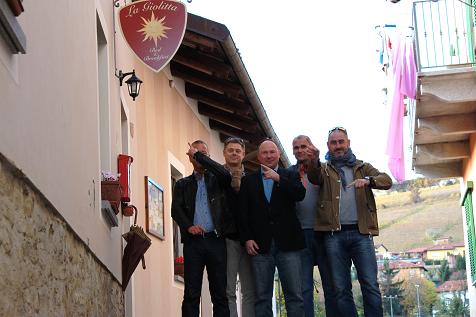 4th time in 5 years - yes, we really like this little town south of Milan in Italy.
First of all. You probably wonder why this text is in English instead of Danish, as Vinhulen.dk is a Danish website. Well, it's fair to our Italian readers, wine producers and all other wine interested people around the world to write in the most common language spoken around the world.
We hope all our Danish readers are able to understand and are willing to bear with us if there is any spelling mistakes or inaccurate words or sentences.
All through this article you can see some of the pictures we took during the Barolo Tour 2012.
We have tried to put the most social ones in this article. This is what it's all about....
As you can see in the picture to the left, is has become tradition to make a group foto outside our recidence in Barolo town - La Giolitta Bed & Breakfast.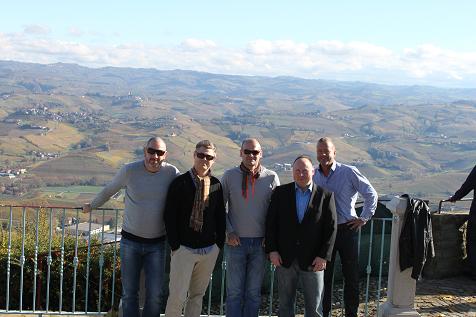 Same team as last year - Frank Gooding, Frank Hermansen, Anders Bruun, Dennis Ernstsen (Anders Jepsen missing this year) and yours truly - a splendid team. Living right in the center of Barolo town for a week at La Giolitta Bed & Breakfast.
As usually we had the whole cellar in the house to ourselves - kitchen, 2 bathrooms, living room and 2 bedrooms and as always Daniella took very good care of us during our stay. Wonderful breakfast every morning - fresh eggs or fried eggs, yoghurt, cake and lots of other stuff.
But, to be honest we come to Barolo to visit the wine producers, taste the wine and try some, for us, new and exciting restaurants in the area.
2012 gave a lot of enjoyment at the producers as well as at the restaurants. If you love food and wine, this is truly the place to go. To top the whole thing up we always visit during the truffle season. An extra bonus you might quite right think!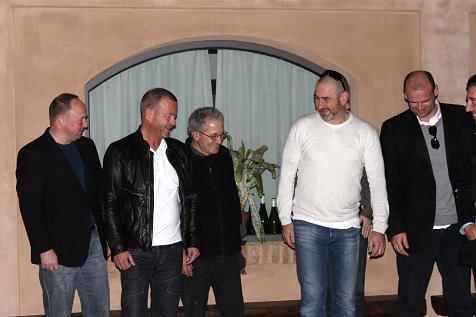 Above to the left you see our group on the highest point in La Morra. From here, on a cloud clear day, you can the entire area. It's so beautiful...
To the left you see Vinhulen.dk at Elio Altare together with Elio on the terrace.
The best thing about the team is that we offer 5 different persons with 5 different personalities and everyone has an opinion on every subject. Every subject regarding wine, food, cars, woman, houses, technic, coffee and more are up for debate and often arguments - but we enjoy ourselves. This is the way we like it, this is the way we want it - Never out of a subject for conversation :-)
Well, the car has always been a subject. This year we rented a smaller car - a Renault Megane. Quite big enough for the 5 of us.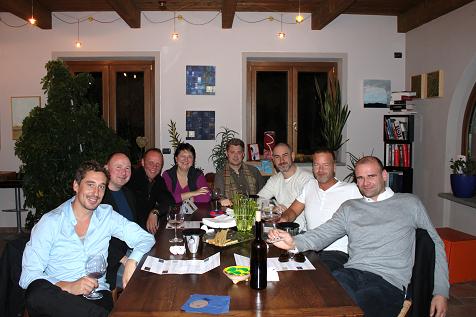 Nice and really capable of handling the mountain like climbs and offroad driving in the area. Not a bad word this year about the car - splendid vehicle.
This year we wewe going to visit the following producers:
Barolo 2012 - Elio Altare - online 14.02.2014
Barolo 2012 - Domenico Clerico - online 14.02.2014
Barolo 2012 - Schiavenza - online 14.02.2014
Barolo 2012 - Sottiano - online 14.02.2014
Barolo 2012 - Paolo Scavino - online 14.02.2014
Barolo 2012 - La Spinetta - online 14.02.2014
Barolo 2012 - Marchesi di Gresy - online 14.02.2014
Barolo 2012 - Pio Cesare - online 15.02.2015
Barolo 2012 - Paitin - Online 30.07.2015
Barolo 2012 - Mauro Veglio - Online 29.06.2015
Barolo 2012 - Azelia - online 04.08.2015
Barolo 2012 - Revello - online 01.09.2015
Barolo 2012 - Michele Chiarlo - not online
Barolo 2012 - Matteo Correggia - not online
Here you go - 14 visits, 14 producers....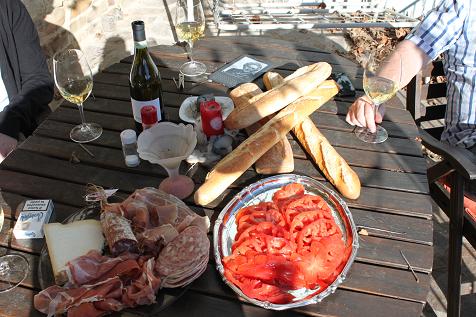 To the left you see us visiting Mauro Veglio - very nice people. They are neighbors to Elio Altare!
You might notice that Paitin (Barbaresco), Mauro Veglio (La Morra), Revello (La Morra), Michele Chiarlo (La Morra),
Azelia (Monforte d'Alba), Pio Cesare (Alba) and Matteo Correggia (Canale) all are 1. time visits. So this time it's 7 new wineries and 7 earliere visited wineries.
As always you can read about our previous Barolo Tours here:
Barolo Tour 2008
Barolo Tour 2009
Barolo Tour 2011
And of course a big part of the Barolo Tour is the visits to nice Italian restaurants during our stay. This year it was: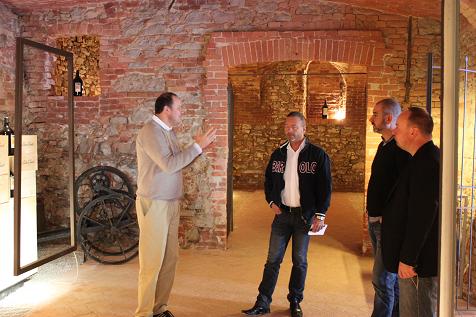 La Cantinetta - Barolo
Angolo di Rosina - Novello
La Rosa dei Vini - Serralunga d'Alba
Ristorante Felicin - Monforte d'Alba
Ristorante Leon d'Oro - Canale
Trattoria Schiavenza - Serralunga d'Alba
Here you can see some of the previous visits to lokal restaurants in the area:
Good restaurants in the Barolo area - online now
Here you'll find possible wine producers to visit in the area and information about the wineries:
Strada del Barolo
Many of our readers ask us why we go to the same area every year when there is so many interessting wine locations around the world?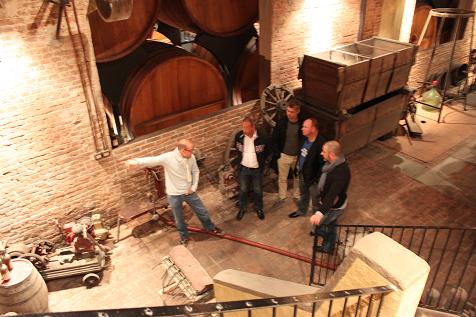 Actually we don't know - ofcourse we know - it's the combination of fantastic wine, fantastic food, the area, the friendly people and a little of feeling safe by not changing the route :-)
To the left you see a picture from our visit at Michele Chiarlo.
2011 was actually the first year where everything went as planed, if success is like being the right place at the right time. It's relatively diffecult to plan everything in advance.
Most visits tend to take longer than you expect. This year 2012 - everything went as clockwork. Being the right places at the right time with more than enough time for lunch and breakfast.
And we must not forget the annual trip to Alba close to Barolo. Every year we go there during a "less busy" wine day to shop and have lunch.
This year the weather was warm and sunny. Cool white wine and pasta - not bad, not bad at all.....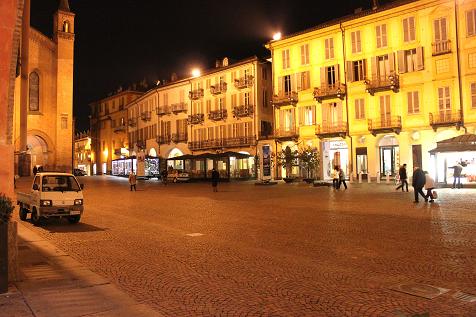 To the left you see a photo from the visit to Pio Cesare. Fascinating place in the center of Alba. The walls go back to the Roman empire!
Speaking about the weather - a couple of readers have asked us, why we deley the articles from our visit until spring or summer the following year?
The explanation is simple. It's about being in the right mood, having the ability to transform our experienses from Barolo to you as a reader of the articles. It takes sun, warm and weather a little bit like in Barolo in october!
We are, we hope, able to communicate the feelings from our Barolo Tour to you in the best possible way,
giving you the wish for a trip to the same area next time you want to taste good food and wine. We hope, we succed in doing that....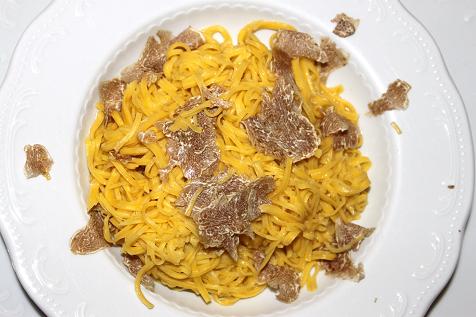 One large challenge every year is to find new producers to visit!
Some we visit more than once because og a special relationship/friendship. Some are here for the first time, but we will like to tell you, how we pick the producers to visit the following year.
It's quite simple. We have a rule during our stay. When we go to restaurants, we can not taste any wine from producers where are going to visit or have already visited.
Therefore it is quite simple to pick new producers. They are simply found during tasting of wine at the dinner table in the local restaurants.
Carefully we note small things about the wine during the week, and then we are ready for next year :-)
To the left Alba by night....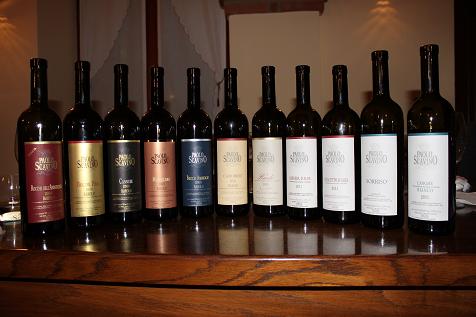 And how do we pick the restaurants? Simply by asking the locals. Daniella from La Giolitta Bed & Breakfast played a big part in organizing it by calling the restaurants in advance and make reservations for us.
Silvia from Elio Altare was most kind to recommend some local places incl. wine bars. The help from both are much appriciated, thank you both!
A tradition in the initial articles is to point at some interesting trends from the area at present time!
What seemed obvious last year (2011) and is even more obvious now is that the battle between traditionalists and modernist are comming to an end.
There is no more talk about the advantage of small barrique in stead of large oak casks or visa versa.
Now it's all about learning from eachother. You might ask why the "war" took place in the first time, but it is obvious that this battle have brought better wines in the Barolo and Barbaresco areas.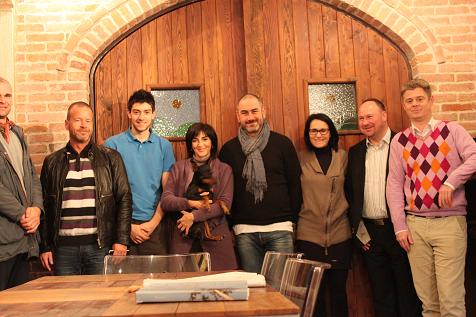 Above you see a picture of pasta with fresh truffles at Trattoria Schiavenza and to the left you see a collection of tasted wines at Paolo Scavino.
In the beginning the barrique wine were to woody and to vanilla like, and the wine from the large oak casks were to tannic and to hard.
The years of battle have brought us a new kind of quality wine, where fresh, red fruit, silky smooth texture and the fist from tannins in the final are simular to quality Barolo and Barbaresco at present time.
Of course there are still differences. Some wines have traces of tobacco, leather, minerals, licorice, while others have mint, strawberry, chocolate etc.
There will always be large differences between the wines, and that is the essence of being interesting for the wine lovers - differences but all wines on a higher quality level than before, and that is truly what the battle produced during the 1990'es and the beginning of the new millennium.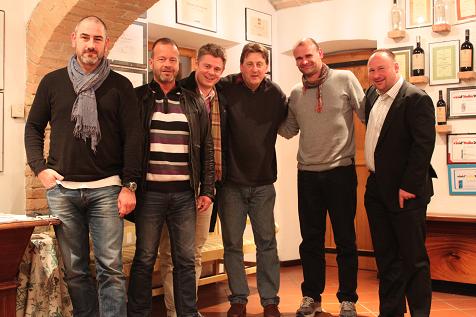 The soil or terroir still means a lot. South, south/southeast exposure still means a lot. Exactly where the grapes are planted on the hills stills means a lot.
Differences will remain and it must remain to keep the wines interesting for the wine lovers.
Last year we touched the subject about essential wine making. We wrote about some producers telling us that producing wine is all about living on the estate, knowing the land, knowing the grapes, the climate, the terroir etc.
This year even more so. It seems most producers unite in the believe in producing wine on the basis of these things, instead of calling for consultants from all over the world to come to Barolo and Barbaresco to help making identical wines all over the area.
Stick to this agreement, it's more true than ever in a fast moving world of constant chase for popularity. Individualism is the key to success.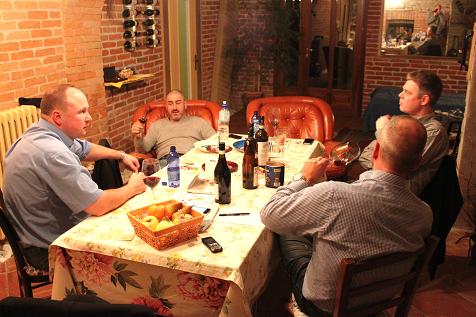 Above to the left you see Vinhulen.dk at the visit at Matteo Correggia. To the left you see Vinhulen.dk at Marchesi di Gresy together with Jeff.
But one of the most important things in the area is the legacy of wine making. Tradition pass from father to son, from father to daughter and have been doing this for generations and generations.
In Barolo and Barbaresco it seems that it is still posible getting sons and daughters to take up the challenge and continue the work instead of going to the big cities and live the city-life.
So important, probably the most single importent thing, if you want to keep tradition and quality in the wines. Everywhere in the area a new generation is talking over......nice!
These years there is a lot of talk around the world about the Italian economy and the rest of southern Europe for that matter.
At first glance it's very hard to notice any change in the economic situation in Piemonte, which are in fact one of the richest areas in Europe - but Italian style.
No pling-pling visible. No fancy clothes at daytime outside Milan and Torino, no high priced cars or diamants in sight :-)
But don't be mistaken. There money is there. From time to time you spot investments in new wineries and cellars etc, so don't be nervous about the future vintages of your favorite wine :-)
The wines from the area are still very high priced compared to many other types of wine, but quality costs money.
It's a fact, but we are close to the limit here in 2013. Never the less this is still a beautiful spot on earth, and we shall return shortly....
A presto!
Copyright 2013
Vinhulen.dk