Barolo Tour 2011 - Ferdinando Principiano
English version
This a very, very, very interesting story about a winemaker and wine producer called Ferdinando Principiano whom in every way have done something out of the ordinary to create true quality in Barolo.
How many times have you experienced a Barolo producer going from modern style to ultra traditional style? Never, we say! Many have crossed the line from traditional to modern style, but never before the other way round. Something tells ud that this is a new trend, but Principiano is the first to go all in.
And when you cross from modern to traditional style and then even in addition make the wine without chemicals, no yeast, no temperature control in the cellar and also biodivercity in every aspect of the process of making great Barolo?
And the result?? We don't know yet, but we have a fairly qualified opinion on the matter after tasting several vintages of the Barolos - This is gonna be great!!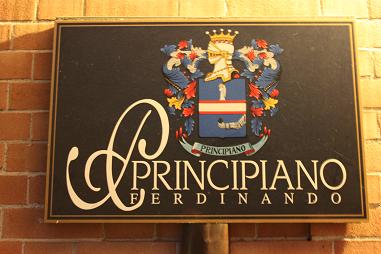 One november day in 2011 we sat out to meet Ferdinando at his winery in Monforte d'Alba in the southern part of the Barolo zone. We have heard a lot of nice things about Ferdinando's efforts to make great Barolo, but the best thing is to witness it yourself, and off we went to experience the great things in person.
Ferdinando and his wife Belen are the second generation of this family to produce wine.
The Principiano family began purchasing plots in Monforte d'Alba in the early 20th century. It is a very small family estate and they produce only around 60,000 bottles per year. Ferdinando's father, Americano, inherited the vineyards and started the winery in 1950.
Ferdinando is one of the most passionate individuals you could ever wish to meet and one of Barolo's rising young stars. This is reflected in his approach to making his wine. He firmly believes that wine from the Langhe area should not take on an international style but should be a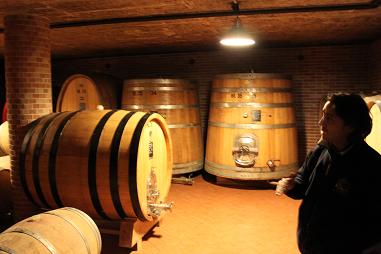 reflection of the place they come from, so his winemaking style reflects the traditional methods.
We very much like to agree on the part of wine reflecting the place of origin. This is essential for Barolo wine. Why try to taste like all the other wine, when you have a unique product? No way! But, this is actually possible both in modern and in traditional production style - if you do not consider barriques a no go for reflecting the place of origin.
Ferdinando Principiano is well known for his ruthless efforts in the vineyards at thinning his fruit in order to create a level of concentration in the remaining grapes that delivers a depth and richness in his wines that are simply unique - his cru Barolo Boscareto from the commune of Serralunga d'Alba and his Barbera La Romualda (produced from one of the oldest Barbera vineyards in the Langhe) are among the best made in the Langhe, many say.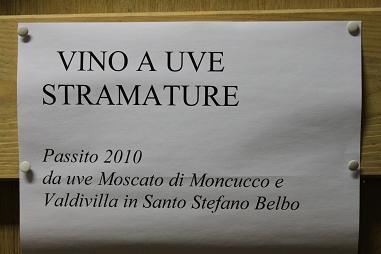 This day in november was to become one of the longest lasting visits in a wine cellar we can remember!
This is said in the most possible positive tone of voice. We were there for a very long time, because it was actually extremely interesting to hear Ferdinando telling us the story about going from being a producer in modernist style to suddenly becomming a true, almost religious, traditional style producer. Why, you could ask?
Understanding the words comming from the mouth of Ferdinando is fairly diffecult due to the fact that he only speaks Italian, but our luck was, that we have Anders Bruun, who is fluent in Italian. Anders had a hard time trying to keep up with Ferdinando who only took pauses in talking to breathe :-)
Anders had to listen and translate for the rest of us at the same time. It went very well, but of course it is diffecult for the rest of us non Italian speaking people to say, if the story that you are about to read is 100% correctly translated :-)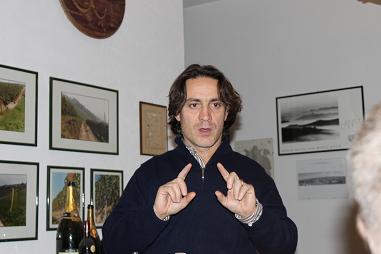 Ferdinando Principiano became an oenologist back in
1987
.
When Ferdinando took over from his father as daily manager in
1993
, the winery was run in modernist style. Modernist style means ageing in small barriques, short period of maceration and so on. Until 2004 this was the right way to do things, according to the Principiano family. Actually Ferdinando was one of the first in the area to buy a rotofermenter which is able to extract tannins, color and taste out of the grape skin much faster than the traditional method. This means that the maceration period can go from 30 to only 5 days if needed.(example).
From the
2004
vintage things started to change.
Ferdinando began a change in his wine making philosophy by dramatically reducing yields (by almost 40%) and eliminating the use of new French oak. This leads to more structured wines, with greater complexity of tannins and intensity of aromas. In the vineyards, he has removed chemical plant foods, weed killers, dessicating agents, and chemical anti-mold treatments. Today he uses only natural yeasts. He seeks to harvest between 800 to 1.500 grams per plant of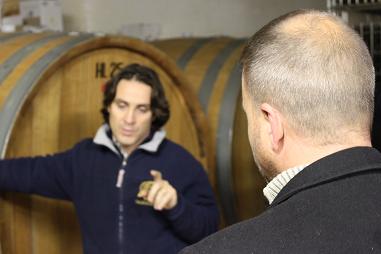 grapes. In the reel world this is how you do it - you cut the bunch of grapes in the buttom of the bunch, so only the "ears" are left. If you imagine you stretch your hand, put your fingers together and point the fingers downwards, you'll cut the bunch at your knuckles. Ferdinando conducts his alcoholic fermentation without temperature controls attempting to work in an environmentally sustainable manner in harmony with nature and conducts manual punch downs during the fermentation process.
As so often before this dosn't come without difficulties. Ferdinando would often clash with his father in an attempt to make better wine. Father and son haven't always seen eye to eye on things, but today Ferdinando is responsible for the vinification and aging of the wine with the assistance of consulting oenologist Giuseppe Caviola, while his father Americo tends to the vineyards.
This day we got the whole story from Ferdinando and we added a few words about the change, but it is fair to say, that change from modernist to traditionalist style takes time - or more correctly - years. It is never easy to go from the well known production methods to new methods and new style. You need courage to break away from the well known and throw yourself into the abyss and hope for the best. It takes some vintages, before you can actually smell and taste the improvement in quality, while the change in style is obvious from the first moment, but the quality improvement has to come step by step as the producer gets better and better to understand the nature, the terrior, the grapes, ageing in big barrels compared to barrique etc.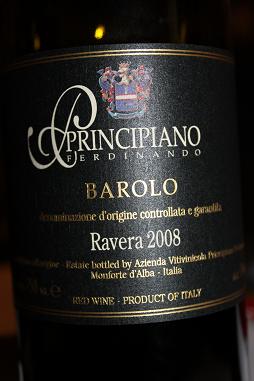 What stroke us most this late afternoon was the passion, the fire in the eyes and the tone of voice from Ferdinando. Never in a split second would you doubt his believe in the possibility to achieve perfection just around the corner. Well, the corner is not far away, we can say!
Let there be no doubt. We liked the wines when it was made in modernist style, but this is truely something else. The change from relatively hard, powerful and typical barrique aged wines with the potential for a long life before perfect maturity in the bottle has now changed to concentrated wines with both perfect harmony already in the young fase of ageling, red fruit, soft and velvet feel in the mouth and a long lasting finish telling us that there this is a great product. The fruit is always in the front, and it is obvious that the secret to wonderful Barolo in traditional style is the concentration and the focus on the fruit.
From vintage
2006
Principiano started to age Barolo Boscareto in botti instead of barrique. In vintage
2008
Principiano started a new style making the Barolo Boscareto by crushing the grapes by foot instead of machine. In 2008 it was only a small part of the grapes that was crushed by foot trying to make the tannins in the wine softer and the wine more Burgundy in style. In
2009
half of the grapes were processed this way, and from vintage
2010
all the grapes for Barolo Boscareto are crushed by foot. This is very special - best known from Douro in Portugal, where the method is known from port.
We tasted the full range of wine from Principiano this afternoon - Dolcetto, Barbera d'Alba and Barolos. The 2006 and 2007 of the Barolos were the latest ones in bottle, but we tasted the 2008 from the botti and some of the 2007 also from botti. That is because some of the Barolos age longer in wood before being bottled.
In our mind there is no doubt that the Barolos get better and better by the year. 2008 is highly concentrated and even more soft and velvet like in style but the standard Barolo from 2007 also shows enormous potential already. We are already seeing the improvement in quality, and we concider Ferdinando's chances of getting maximum rating in the wine guide Gambero Rosso for his vintage 2008 obvious. We already find the standard Barolo 2007 and the Barolo Boscareto 2006 worthy of 3 glasses!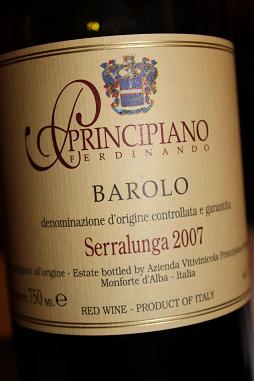 Well, enough focus on the Barolos for the moment. Ferdinando Principiano also makes a range of other wines, and barrique is still visible in the winery because some of the wine still age in barrique. The new style and focus is still in the beginning, so a couple of the other wines still "need" barrique. This is the full range:
Barolo Serralunga - 100% Nebbiolo according to law. Age 24 moths in 20 and 40 hektoliter barrels and then in bottle. Annual production is 20.000 bottles.
Barolo Boscareto - 100% Nebbiolo according to law. Age 35 moths in 30 hektoliter barrels and then in bottle. Annual production is 4.000 bottles.
Barolo Ravera - 100% Nebbiolo according to law. Age 24 moths in 400 liter barrels (barrique is 225 liters) and then in bottle. Annual production is 2.000 bottles.
Barbera d'Alba Romualda - 100% Barbera. Age for 24 months in 400 liter barrels. Annual production is 2.000 bottles.
Barbera d'Alba Laura - 100% Barbera. Age for 10 months in stainless steel. Annual production is 10.000 bottles.
Langhe Nebbiolo Coste - 100% Nebbiolo. Age for 10 months in stainless steel. Annual production is 10.000 bottles.
Dolcetto d'Alba St.Anna - 100% Dolcetto. Age for 10 months in stainless steel. Annual production is 15.000 bottles.
Due to the fact that the bottles we tasted on this afternoon had been open for quite some time, before we had the chance to taste it, we have choosen not to put any ratings of the wines in this article and in our wine database, but we have given you our view on the present quality and what to expect of the forthcoming vintages.
Ferdinanso Principiano is a producer you need to focus on now and in the coming years. A lot is going on these years at Principiano's property in Monforte d'Alba. The process of changing from modern to traditional winemaking is rare, and it is happening right in front of your eyes. You actually have the chance to buy some of the first vintages of this project. Wines that are now relatively cheap but can become collectors items in a few years! How often will that happen during your lifetime?
These are the words from Vinhulen.dk for this time. Be sure we will be back for a revisit in 2012, when we go to Barolo. This is one of the most interesing projects in the area in present time, and we will pay close attention to it all the way. Believe us when we say that our eyes have locked on to the young man Ferdinando Principiano. This man has a mission, and we will follow him close in the next years. Will you??
You can find the wines from Ferdinando Principiano in Denmark at Domaine Brandis.
Copyright 2012
Vinhulen.dk